Keyboard Implanted
Join Date: Sep 1999
Location: Casa Grande, AZ
Posts: 3,758
Thanks: 0
Thanked 0 Times in 0 Posts
Hey Jerod,
Wow... We've been around awhile, huh. I haven't been wheel'n at all, but been putz'n with my 86. I still have some things I want to do to it. It's running really well. I put in a set front brake pad this past week end. Took me about 30 minutes, cost me $14.00.
I bleed the brakes twice and adjusted the rear shoes up, got nice pedal now.
Regarding your Runner, I love how we can take an old Toy and resurrect it from a hard life and sometimes a hard death and transform it into a project and give it a new life with a "loving" owner!
It's a thing of beauty!
It's kinda like the hot rodders who find an old rusty shell out in a pasture in Kansas and takes it home and builds it into a thing of beauty.
Speaking of rods, if you are really into car shows, and if you ever want to spend a really fun 3 or 4 days, check out the Run to the Sun car show in Lake Havasu City, AZ. It's one of the largest west of the Mississippi. It's on a golf course in mid October. The weather is usually beautiful and there are over 1,000 vehicles from 1972 and earlier. On Thursday night the cars park in the middle of the town and its one big party. Friday night there's a sock hop with the a live band playing the oldies, Saturday and Sunday you get to walk around and see lots and lots of car-candy and other eye-candy! (I love old trucks, perky tits and tight butts!)
Check it out here:
Relics & Rods
---
gNARLS
---
Last edited by Gnarly4X; 06-23-2011 at

06:37 AM

.
Keyboard Implanted
Join Date: Sep 1999
Location: Casa Grande, AZ
Posts: 3,758
Thanks: 0
Thanked 0 Times in 0 Posts
Quote:
Gee, as our economy shrinks, so does our Toy page??!!
Wow... checked out the Toyota Truck page this morning. NOT one Toyota Truck section post!!.. out of 177 posts!!
The good 'ol days have come and gone. This used to be the hottest and most debated techy site anywhere. The Toy Truck section always had more posts and activity
Well... where I live I've seen so many Toyota trucks and Runners being towed or hauled south, it's hard to image any old Toys left in Arizona!!
Just for poops & giggles I jumped on AutoTrader, searched for Toy Trucks from 1981 to 1985, and looked for ANY DISTANCE... only 6 ads poped up!!!! Then I searched for just 4-wheel drives!!.... Only 2 ads appeared!!
Our old Toys are all in Mexico!!!
That's just my worthless opinion.
---
gNARLS
---
Last edited by Gnarly4X; 10-31-2011 at

06:48 AM

.
Addict
Join Date: Dec 2007
Location: Battle Ground Washington
Posts: 423
Thanks: 0
Thanked 5 Times in 5 Posts
Sad really. I'm seeing fewer older trucks (all brands) around here also. It seemed to start around the time cash for clunkers program was going on, but has continued since then. Everybody is driving newer econo boxes. Guessing that they traded in their "fun" for some monthly payments and paying for them with the money they save in gas.
Keyboard Implanted
Join Date: Nov 2001
Location: North Central Illinois
Posts: 3,928
Thanks: 0
Thanked 0 Times in 0 Posts
I'm still here, sort of .
Finally bought a lathe, that's a bit scary as now I can't hardly remember all the things I wanted to make....
It has come in handy though, already made a few parts to keep my 1967 Wheel Horse running .

I do have some good news - sold the '07 Dodge Dakota. I liked the truck, but too pretty to be taking to work or wheeling it and the thing has started to rust like it's a career.
Bought a Corolla in amazing shape at 143,000 miles, that thing I swear makes gas.

Best news, bought another truck !
It will come home Monday, pics coming soon...
Sarge
---
Midwest Performance Parts
Weber Modifications/Rebuilds & Parts
Lets see it!
Here's mine. A work in progress.
---
85 PU & 91 Runner(2door)
Keyboard Implanted
Join Date: Nov 2001
Location: North Central Illinois
Posts: 3,928
Thanks: 0
Thanked 0 Times in 0 Posts
'77 FJ40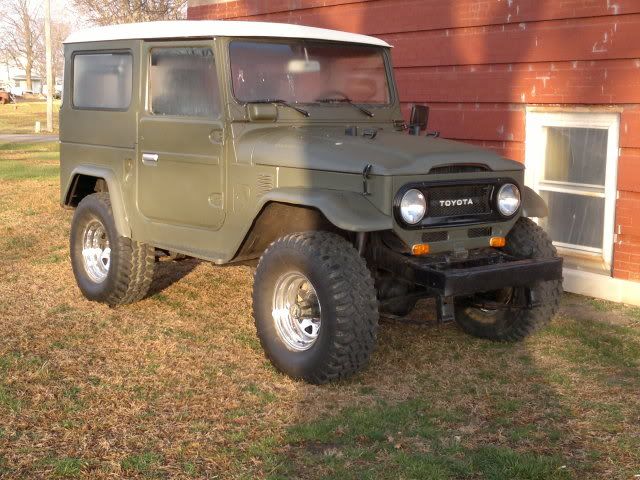 This is going to be a veeerrryyyy long term project , missing a lot of parts to say the least.
Sarge
---
Midwest Performance Parts
Weber Modifications/Rebuilds & Parts
Posting Rules

You may not post new threads

You may not post replies

You may not post attachments

You may not edit your posts

---

HTML code is Off

---