| | |
| --- | --- |
| Shades of Grey | 2017 RZR Build | |
Polaris UTV Forum
Rangers and RZRs, the full-spectrum of utility and hard-core fun.
| | |
| --- | --- |
| | |
09-08-2016, 06:13 PM
Supporting Vendor

Join Date: Oct 2010

Location: USA

Posts: 232

Thanks: 4

Thanked 1 Time in 1 Post
Shades of Grey | 2017 RZR Build
---
With the
"Six Seater Whoop Eater"
officially retired and off to a new home, it's time to build a machine that can take on the slick rock of Moab, rip in the sand sand dunes, and hold up through the harsh desert trails of Arizona. The plan is to build a
2017 XP1K4
dubbed "Shades of Grey", over the next few months with the goal of incorporating aftermarket products that fit within a grey color scheme. Mods will come quick so be sure to subscribe to this thread for updates; we may even giveaway a few items along the way
But before we delve into the mods, here's a little insight from the owner (DTC employee) as to why the switch from the Ranger Crew, A.K.A. " Six Seater Whoop Eater", to the XP1K4...
"I'm sure I have the same story as many of you... started with a lifted golf cart, moved on to a Yamaha Rhino and then as machines began to evolve I eventually upgraded to a brand new 2013 Polaris Ranger Crew. After many sleepless nights and lots of discussion my wife and I decided that would be the best machine to meet the needs of our family of four. We weren't really "duners" or rock-crawlers, just trail riding and hunting so this was really a perfect machine and fit our needs perfectly. After almost four years, the kids getting older, a few trips to the dunes and Discount Tire Rally on the Rocks we decided it was time to upgrade. Not that the Crew wasn't perfectly capable but it just didn't keep up with everyone in our riding group and as our riding advanced (especially in Moab) it wasn't exactly suited for that type of use.

Again, after many sleepless nights and debates back and forth between the new General 4-Seat and RZR XP1K4, the RZR won out. After checking them both out firsthand the General still felt too "work" and not enough "play"; we are old enough now to want to get out and play a little more (midlife crisis?). After the final decision was made it came time to decide what was essential in making this things ours... first off we hated the two(2) color options for the 2017 models so after seeing them in person we decided that we could do enough to the Titanium model to make it satisfactory as far as color schemes and that is where the snowball began to gain momentum."

-Chad
-Starting Point-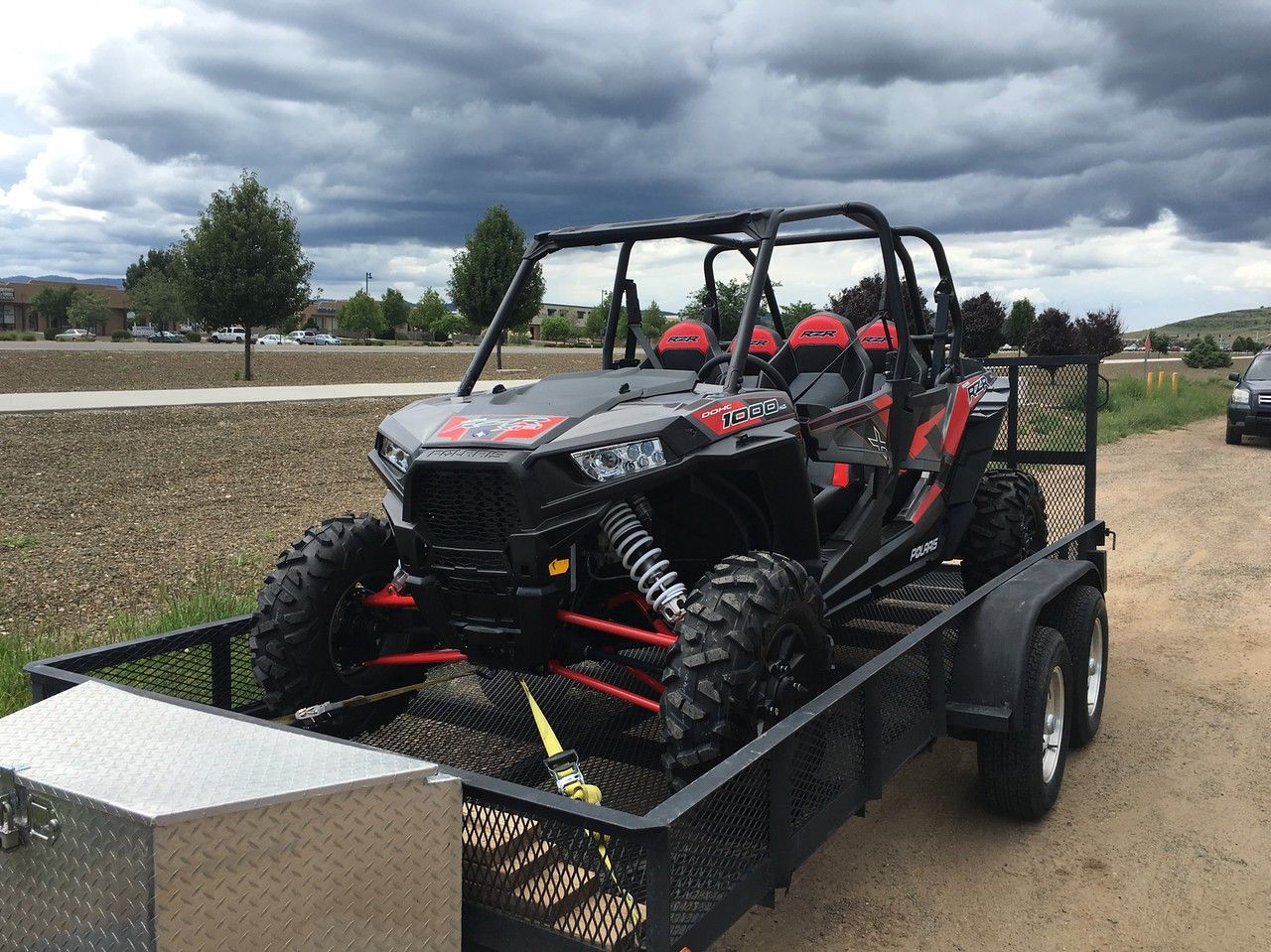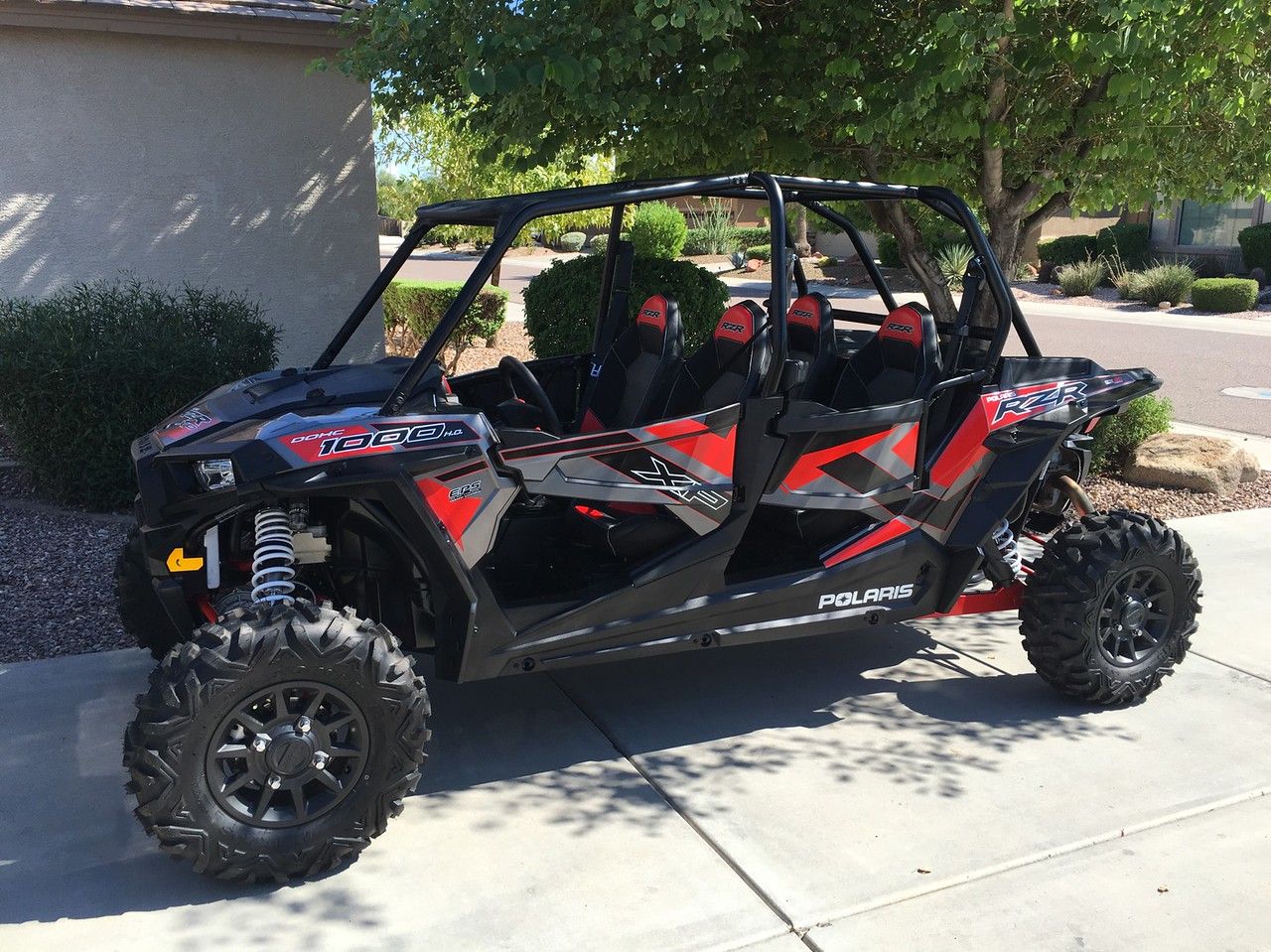 Only two(2) miles on her!
---
Last edited by Discount Tire; 09-10-2016 at

01:00 PM

.
09-10-2016, 01:29 PM
Supporting Vendor

Join Date: Oct 2010

Location: USA

Posts: 232

Thanks: 4

Thanked 1 Time in 1 Post
---
This weekend the goal is suspension! More info regarding that to follow.
In the means time, here's a few more mods accomplished from last week...
-Mod #3 | Storage-
Installed a set of
PRP door bags
from
SXS Performance
. We considered going with the grey piping/trim, but ultimately decided all black fits in best. The extra storage of personal items and gear is awesome and they also help keep your knees from hitting the doors.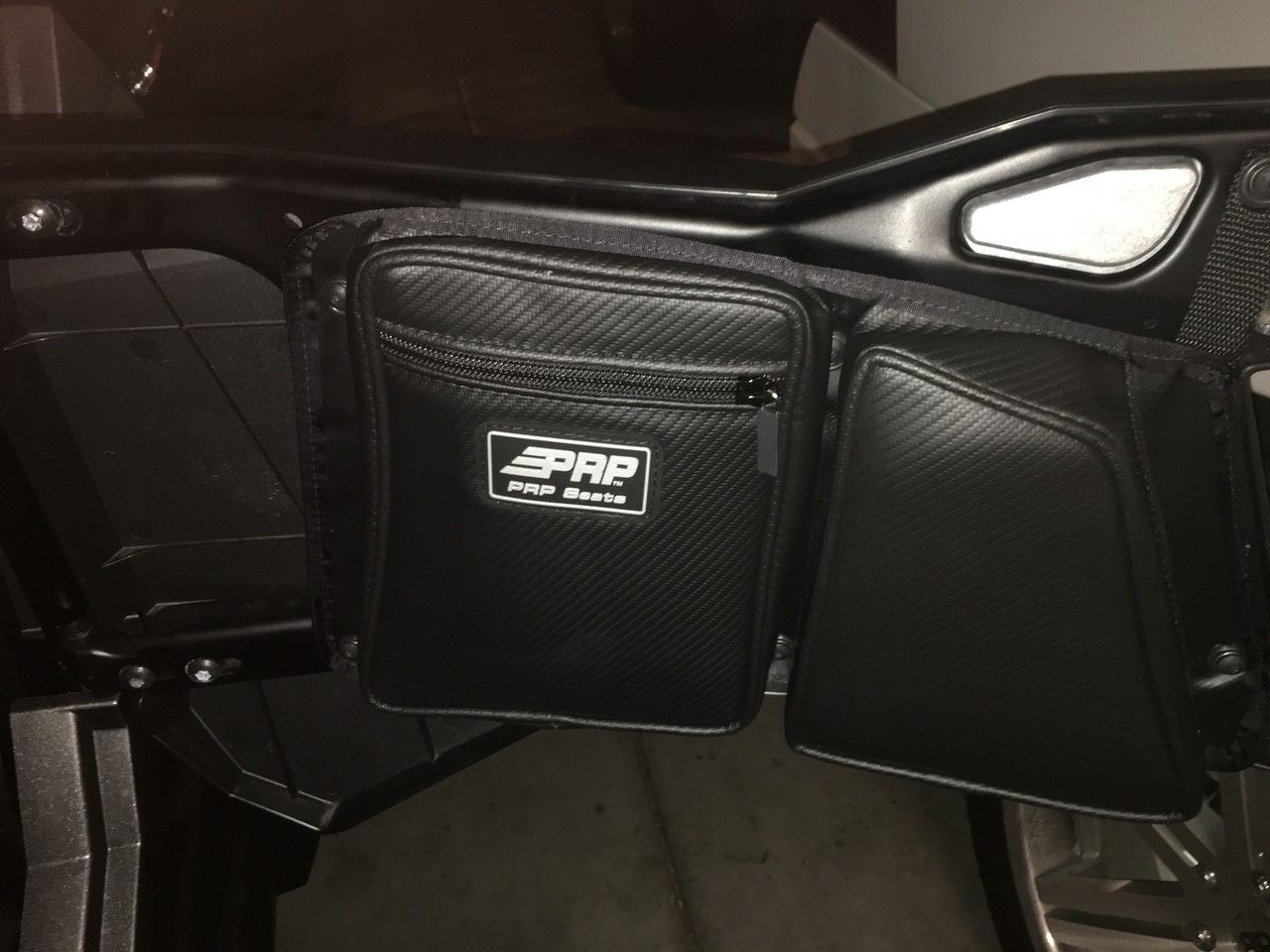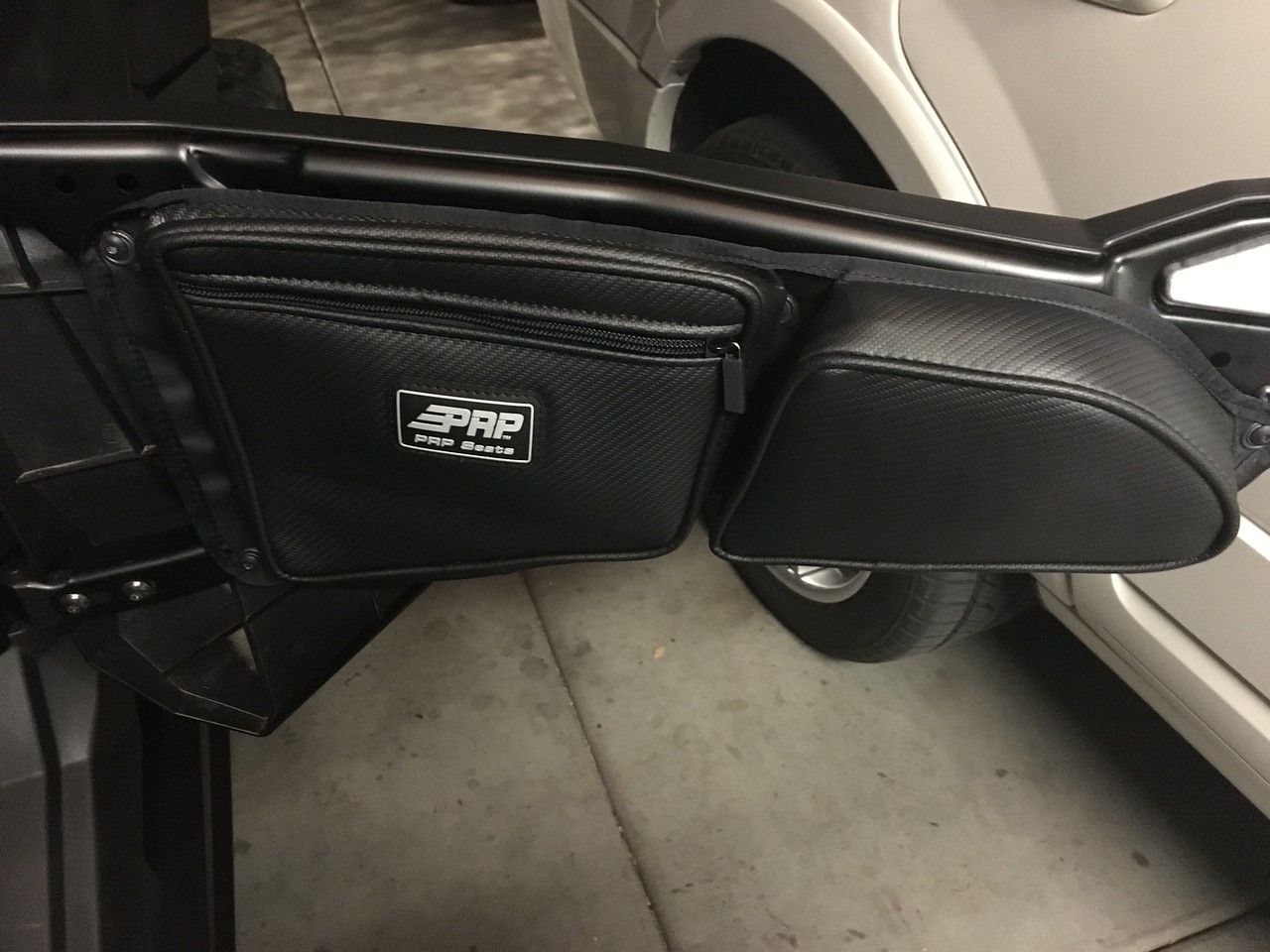 09-10-2016, 01:40 PM
Supporting Vendor

Join Date: Oct 2010

Location: USA

Posts: 232

Thanks: 4

Thanked 1 Time in 1 Post
---
-MOD #4 | Keeping Things Cool-
This is probably the favorite mod of Chad's thus far (
YETI
fanatic) and how can it not with this functional
cooler bracket by Outdoor Logic
! This bracket is specifically designed to house a YETI 35 Tundra Cooler; perfect addition to house those frosty cold... water bottles.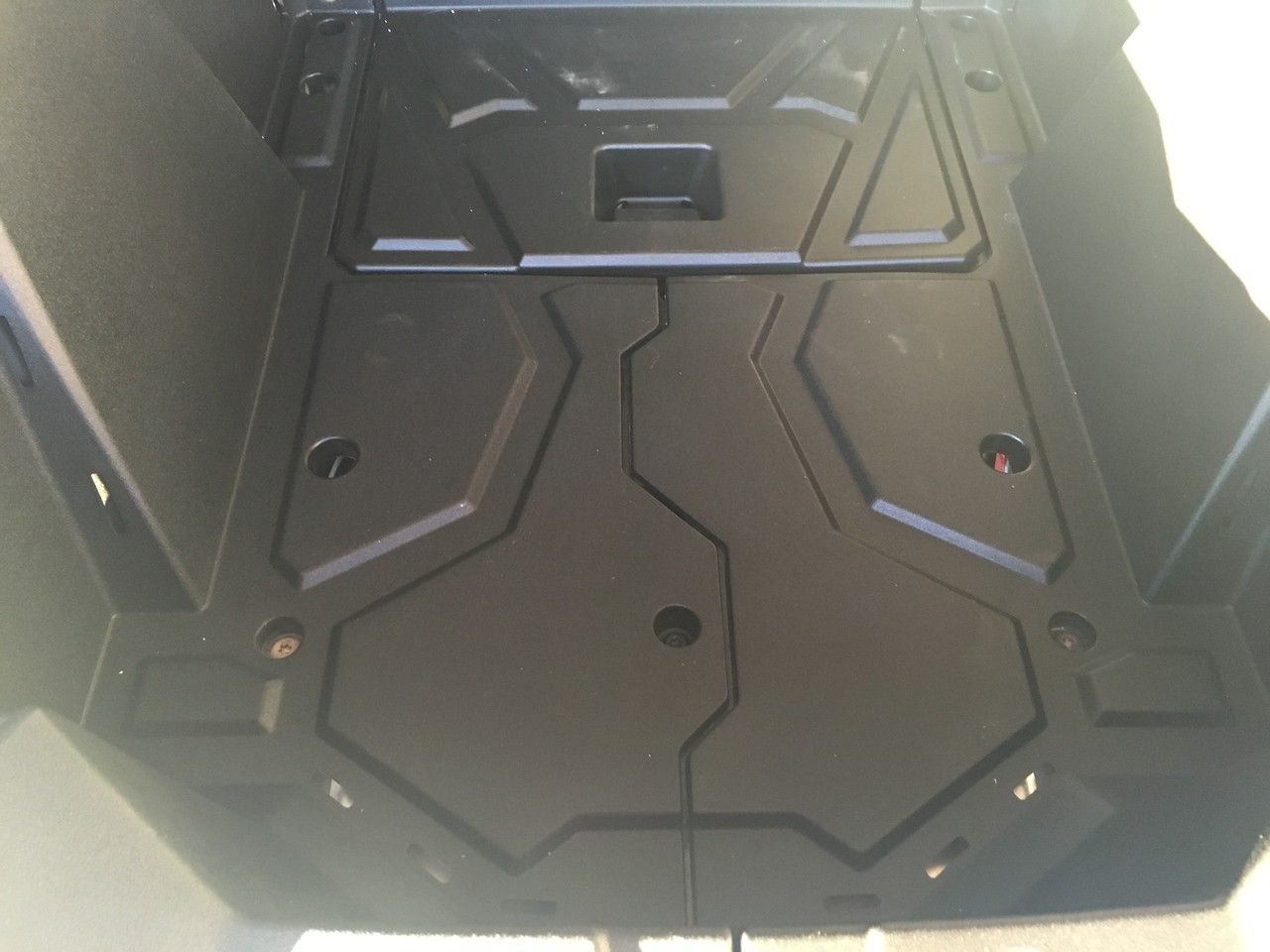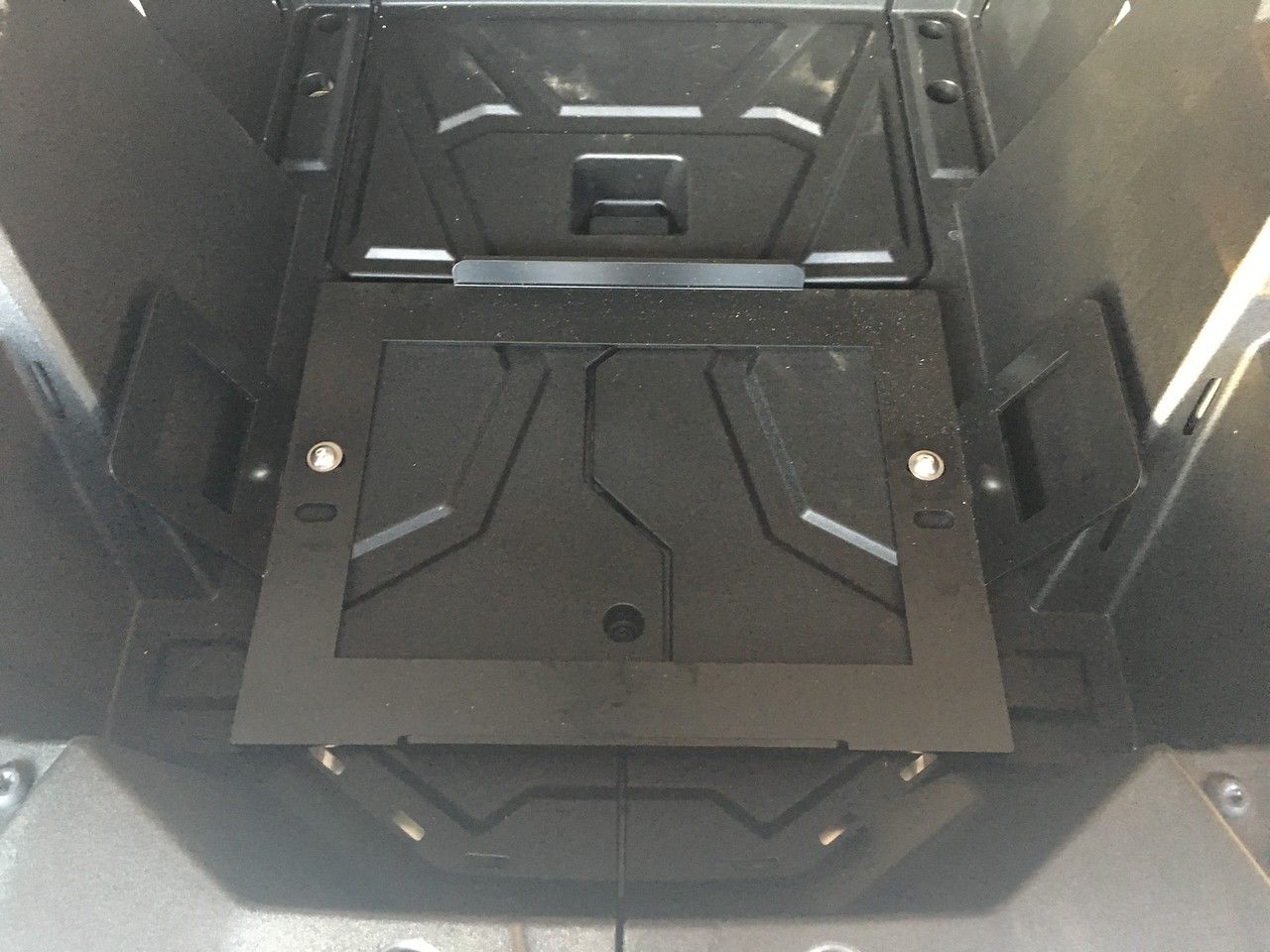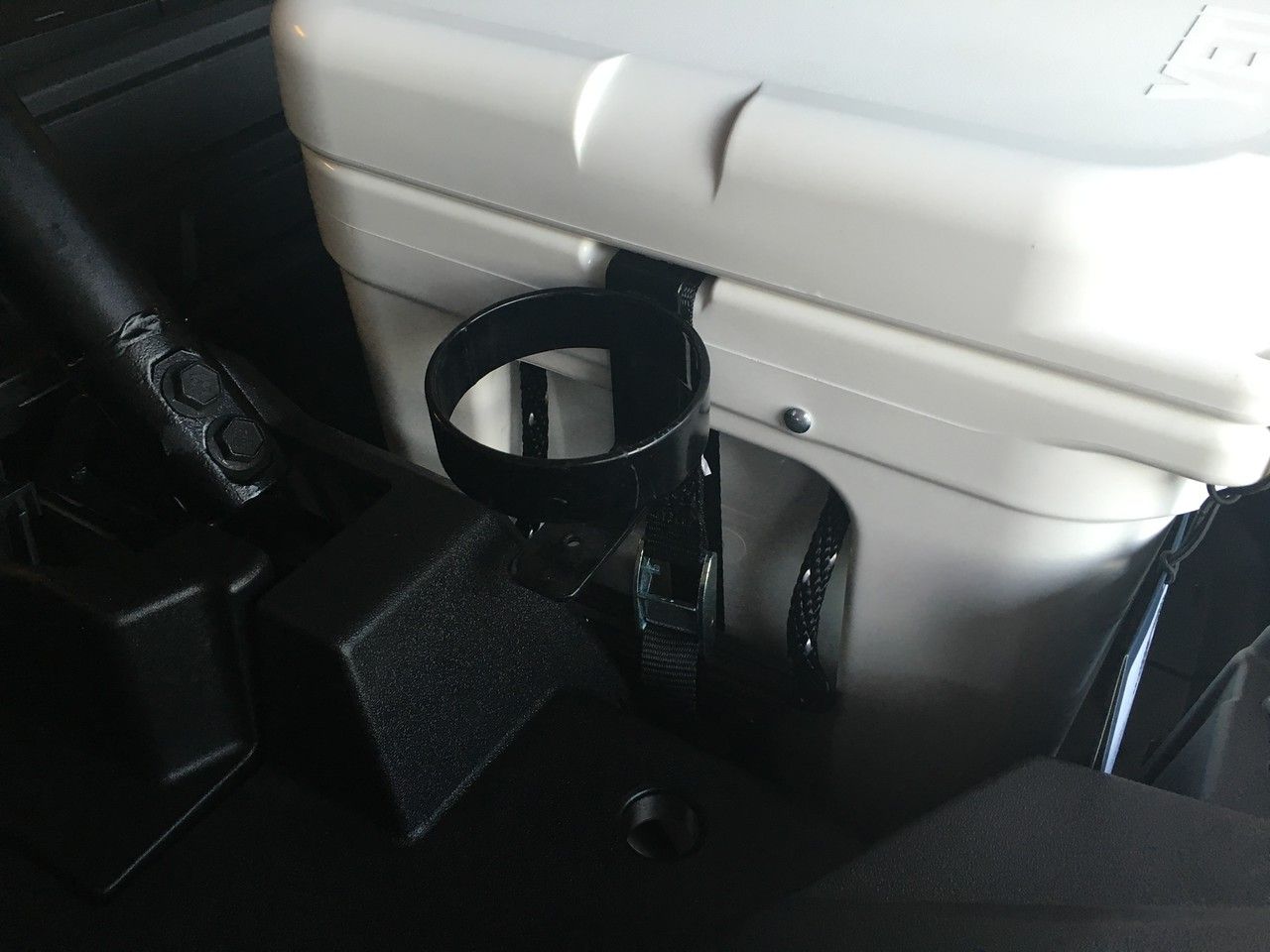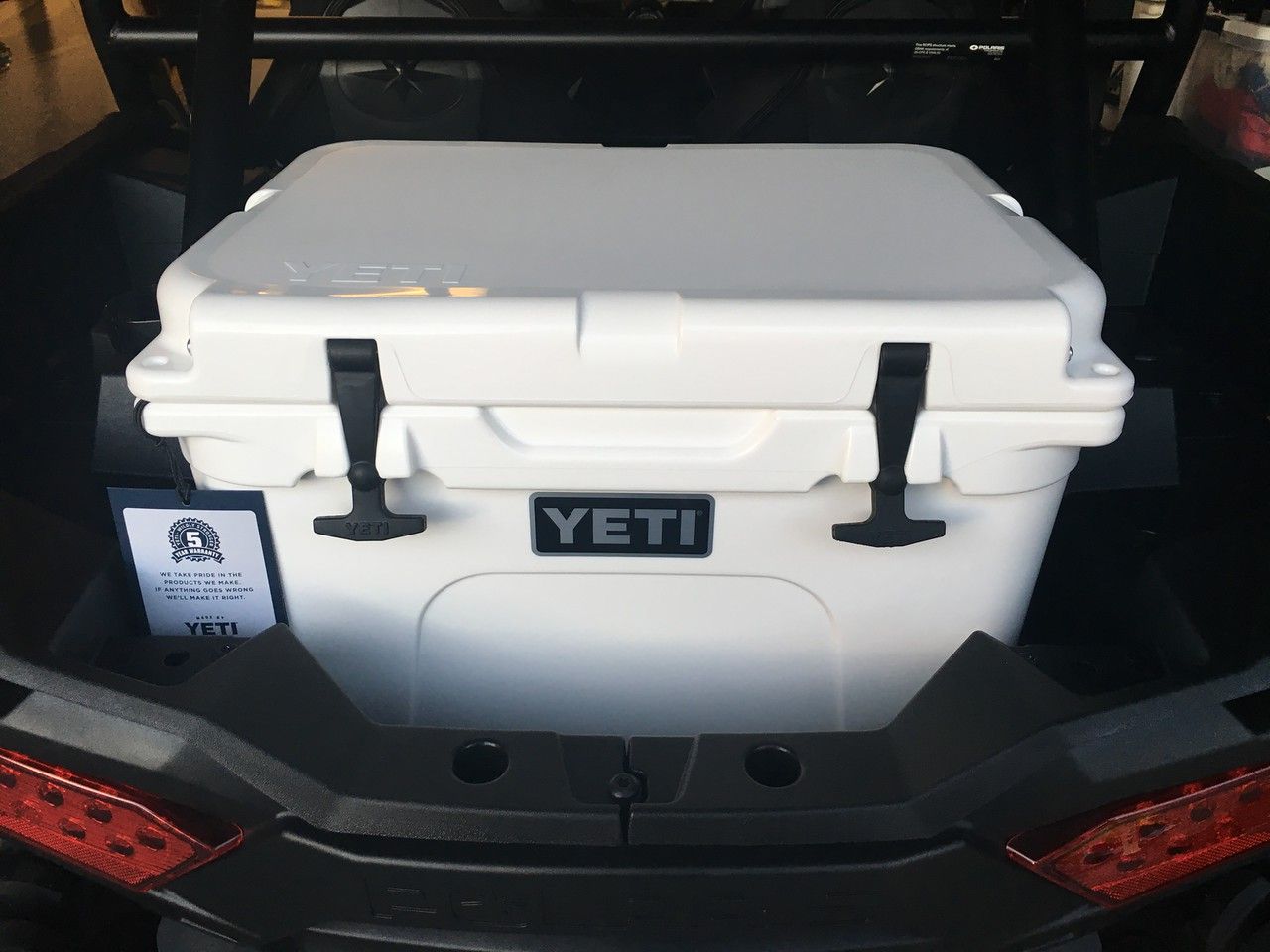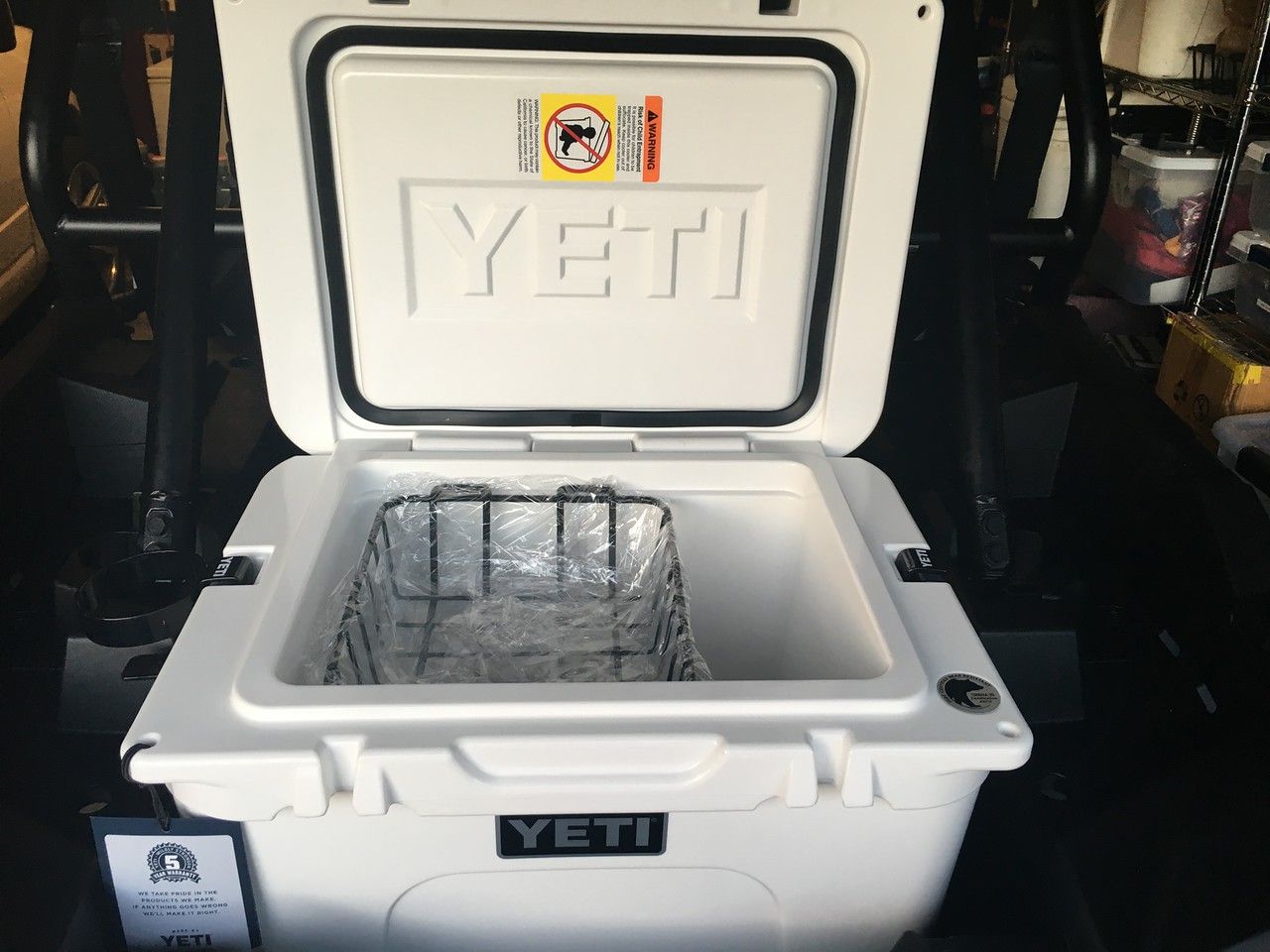 Some future mods right around the corner include: lighting, harnesses, seats, and a very special new product from
Rugged Radios!
We can't say much about Rugged's latest development, but lets just say it
ROCKS!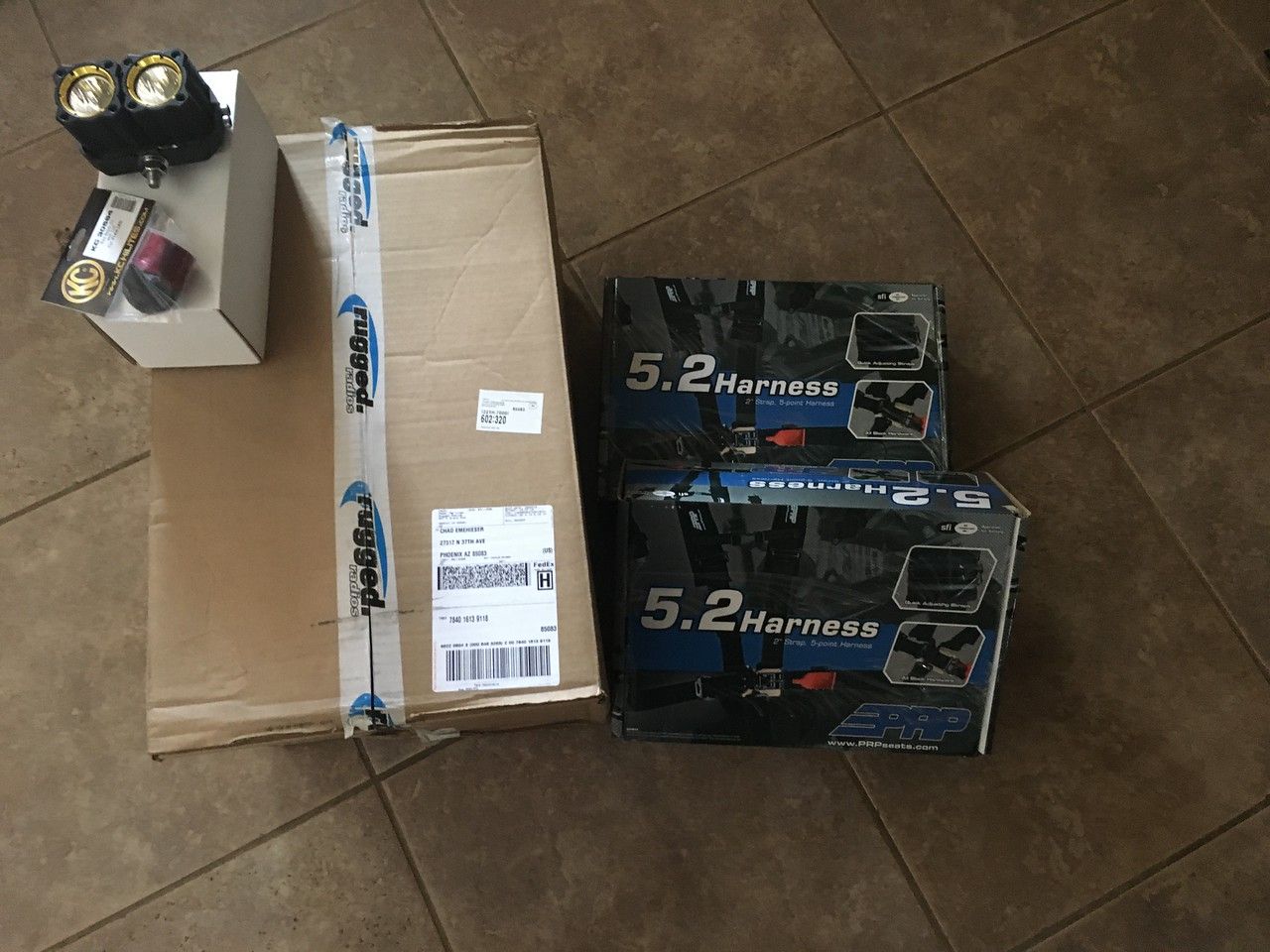 ---
Last edited by Discount Tire; 09-10-2016 at

01:50 PM

.
09-12-2016, 06:29 PM
Supporting Vendor

Join Date: Oct 2010

Location: USA

Posts: 232

Thanks: 4

Thanked 1 Time in 1 Post
---
-MOD #5 | Seating-
It was decided to go with a local company for the seats; there are a couple of reasons for this:
A) It is always nice to be able to support local, family owned companies.
B) Because they are local the better half can see, touch and test them before telling you what you're allowed to get!
"I called Herbie at Triple X and he was very happy to help us out with our build. The wife and I met him at his location so that she could decide on material, pattern, piping color, etc.. etc. Herbie was amazing to deal to with, had the seats done on time as promised (even while trying to get everything ready for Sand Sport Super Show) and we couldn't be happier!

One thing that did take some negotiation between the wife and I was what to do with the rear seats. I was leaning heavily towards two buckets and she really wanted a bench. I seemed to think the buckets would look better; you still retain both cup holders and they are easier to get in and out. However, my wife had other ideas. We try and take our dog on as many travels with us as we can and my wife insisted that Zoey would prefer a bench (so she can lay down) versus a bucket. At that point I was out of ammo and could debate no more. As you can clearly tell we have a bench seat in the back of our RZR. My wife and Zoey are both very pleased that I eventually came to my senses."

-Chad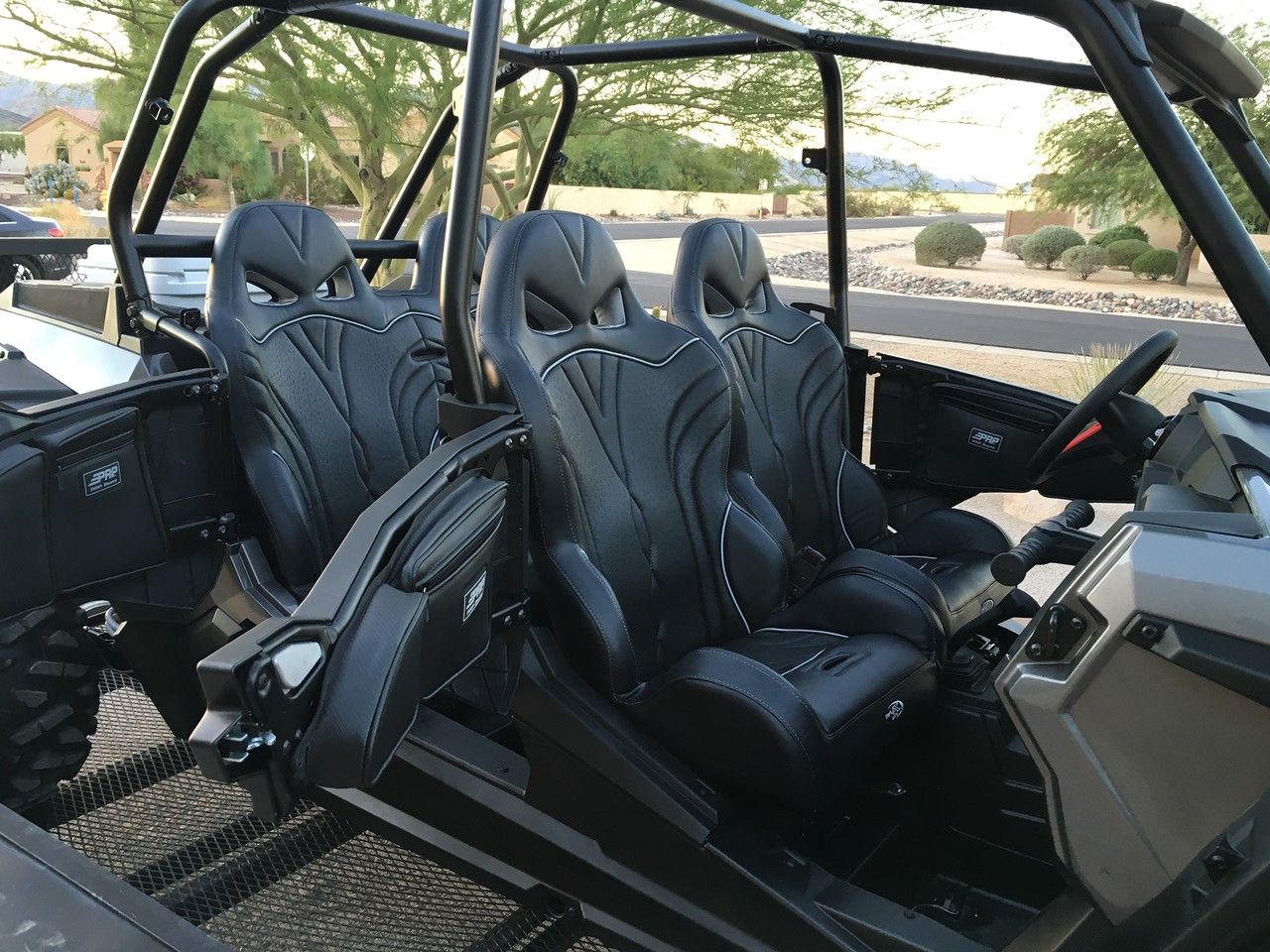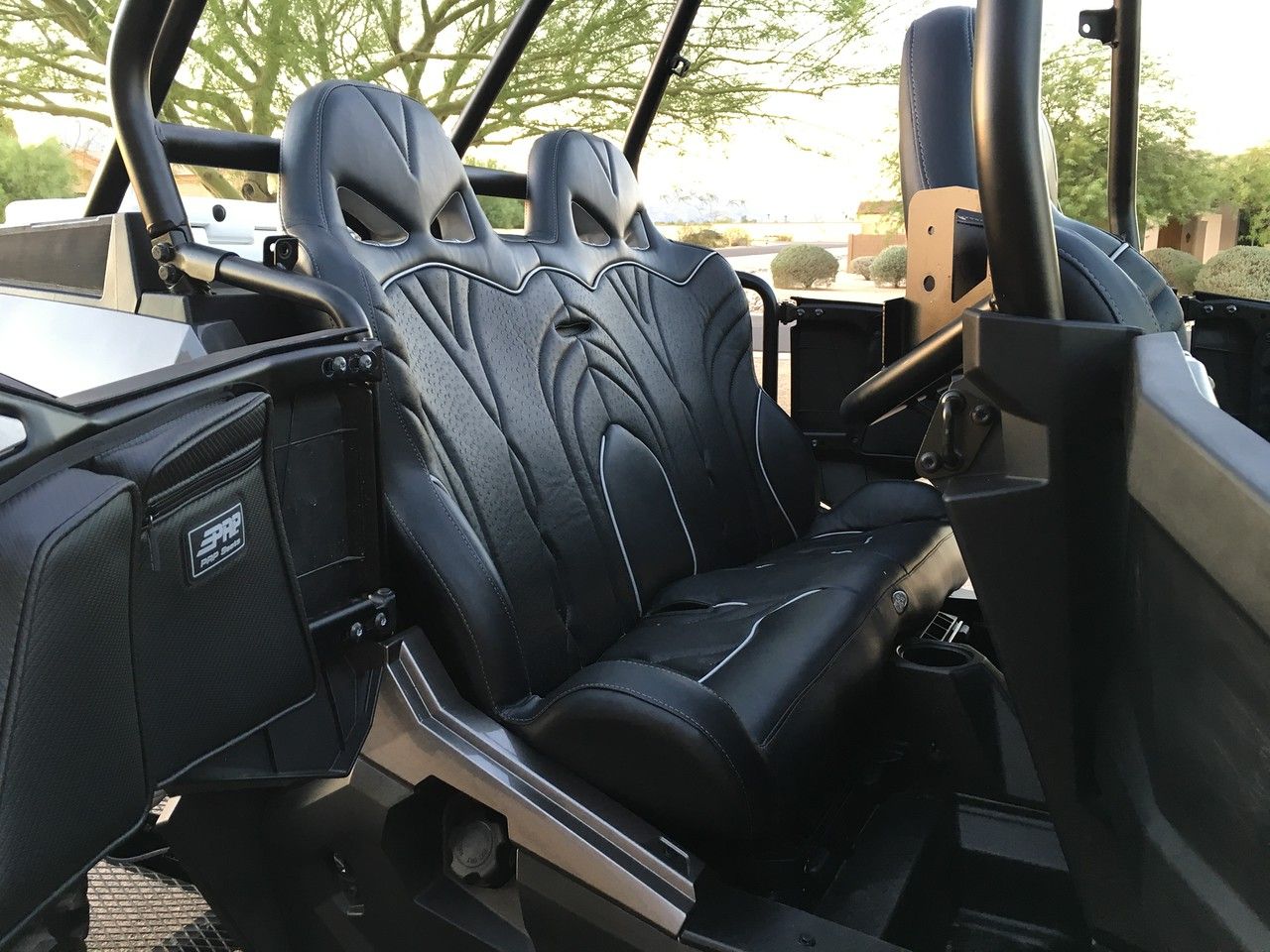 09-12-2016, 06:29 PM
Supporting Vendor

Join Date: Oct 2010

Location: USA

Posts: 232

Thanks: 4

Thanked 1 Time in 1 Post
---
For those curious about the suspension upgrade... well, that didn't go exactly as planned.
"We ordered new +2 forward a-arms, high-clearance radius rods and high-clearance trailing arms from our good buddy Nate over Zbroz Racing. We have known these guys for years through events such as Discount Tire Rally on the Rocks. They build great products and are great guys!! Anyhow... Saturday morning rolls around, the shop is prepped, we have everything we need and are ready to get a full suspension upgrade underway.

Figuring the front is going to be the most time consuming we decide to start there. Once we get the stock arms off and begin pressing out the bushings we realize something is different. The 2017 comes with brass bushings!! Oh Boy, we've already got these things pressed out and pretty much destroyed the little plastic spacer "thing's" that keep the bushings from going too far into the arm. At this point we have our fingers crossed that these things will fit into the ZBroz arms... well our optimism was soon shredded to pieces!!

The 2017 brass bushings will NOT fit into a-arms from previous model years. At this point we can't get the OE stuff back on (we ruined the spacers) and we have no bushings for the new arms. After calling all over town we find some 2016 bushings for everything except the short side on the upper arms. three hours later (after chasing parts) we come to the conclusion that we are going to have to fabricate something just to get the new arms on and secure enough to hold everything together well enough to get the machine back on the trailer. Some grinding, sanding and filing on a couple of the OE bushings and we manage to get them in the new arms enough to be able to roll "Shades of Grey" back on the trailer.

However, the day was not a complete waste. We were able to get the entire rear end done without any complications at all and we did actually learn something that may be helpful to some of you other guys (and ZBroz) regarding the front suspension on the 2017 models. Nate is getting us a set of his premium brass bushings for his arms sent out ASAP and we will have this all dialed in by the end of the week. Sometimes you just have to do things twice."

-Chad
Suspension photos coming soon; stay tuned!
09-13-2016, 11:30 AM
Supporting Vendor

Join Date: Oct 2010

Location: USA

Posts: 232

Thanks: 4

Thanked 1 Time in 1 Post
---
We mentioned a new product from
Rugged Radios
earlier in this thread. We're really stoked for this MOD, but need to wait a week or so before we can "officially" display the awesomeness! Rugged did, however, drop some hints on this new product through their FaceBook channel the other day; check it out!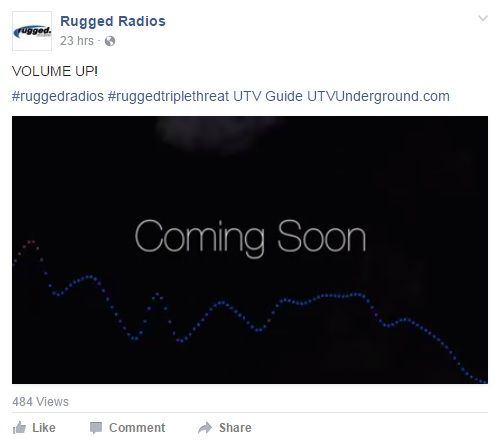 09-16-2016, 06:52 PM
Supporting Vendor

Join Date: Oct 2010

Location: USA

Posts: 232

Thanks: 4

Thanked 1 Time in 1 Post
---
Happy Friday, everyone!
The suspension is nearly wrapped up! All that needs to be installed is some of the brass bushing we received from Zbroz. Some of you may be asking why it was decided to go with ZBroz suspension parts? Honest question, here's why...
"We have been working with Nate and the ZBroz crew for the past several years and they are stand-up guys... that is a huge factor for us! Aside from that they build what we consider to be an awesome product. Up front we chose the ARS-FX +2" A-Arm kit so that we have the option of going up to a 32" tire and will have no tire rubbing concerns while crawling in Moab (plus they look AWESOME)! In the rear we chose to replace the stock radius rods with ARS-FX high clearance set up; much stronger than the stock rods, great clearance for rock crawling and they look fantastic! With that being done we just couldn't leave the stock trailing arms alone... this is "Shades of Grey" right? We chose to complete the ARS-FX suspension package with the high clearance trailing arms and quick disconnects for the sway bar. This rig should be ready for the rocks or anything else the trails or the dunes can throw at it."

-Chad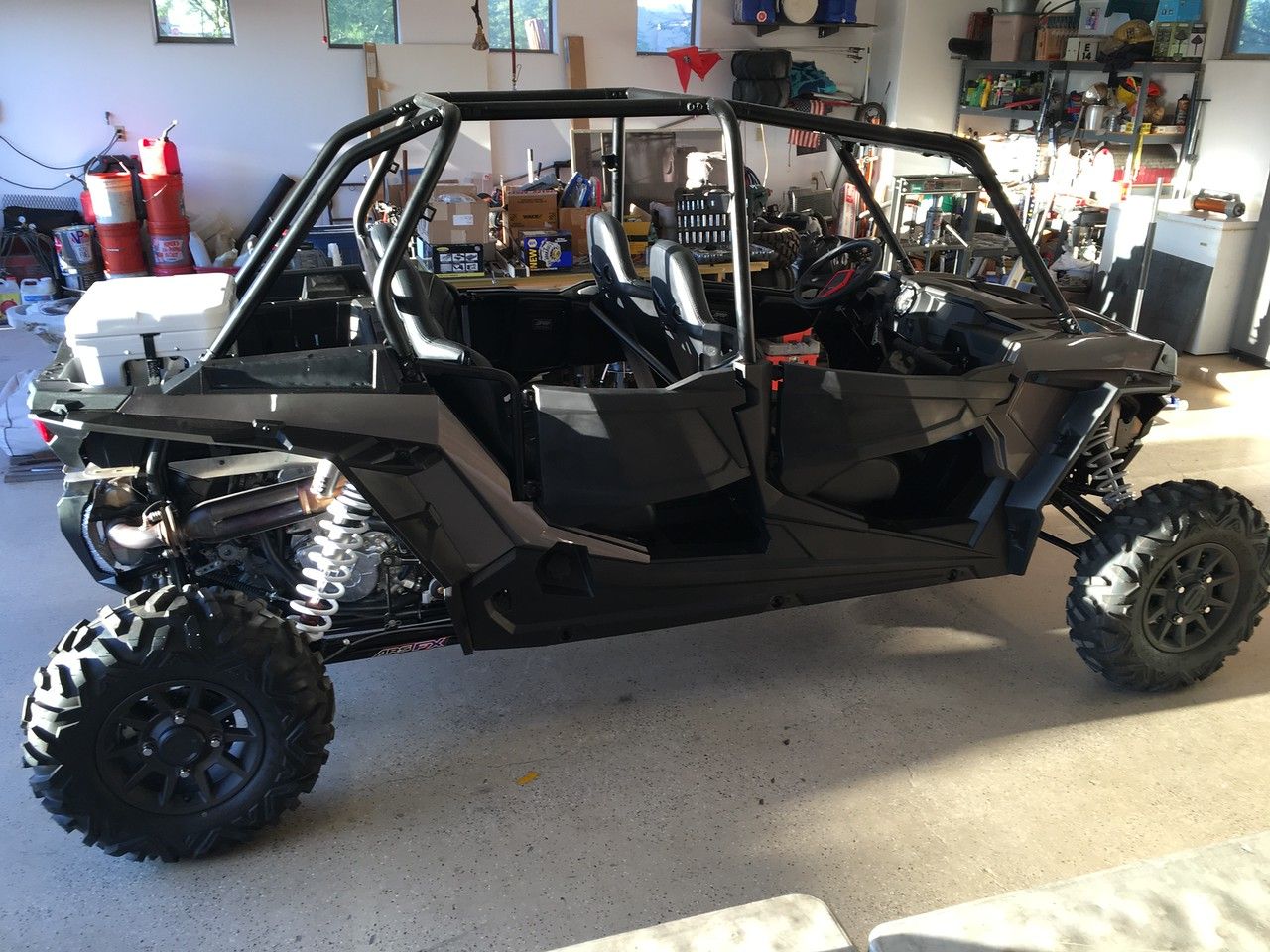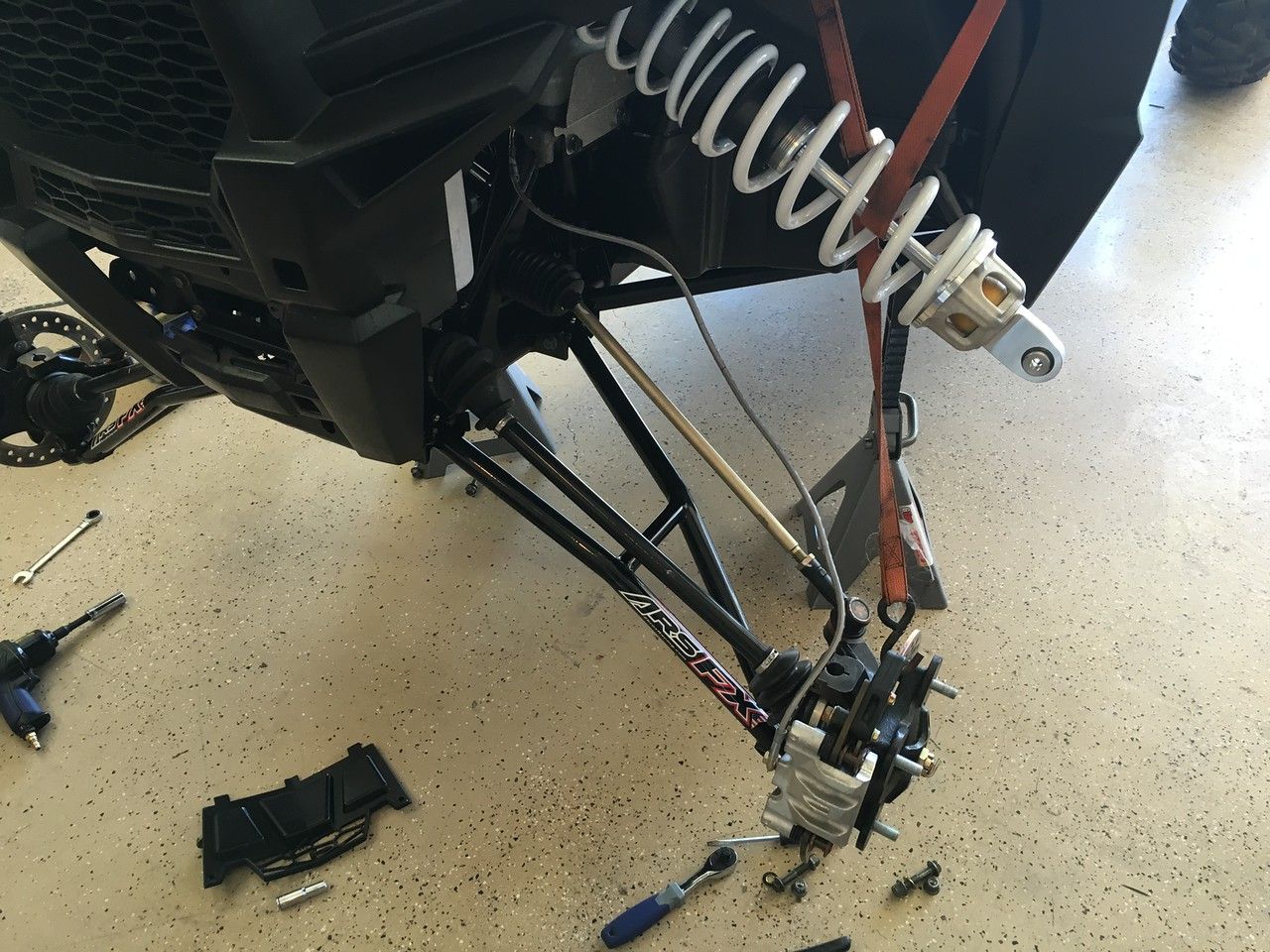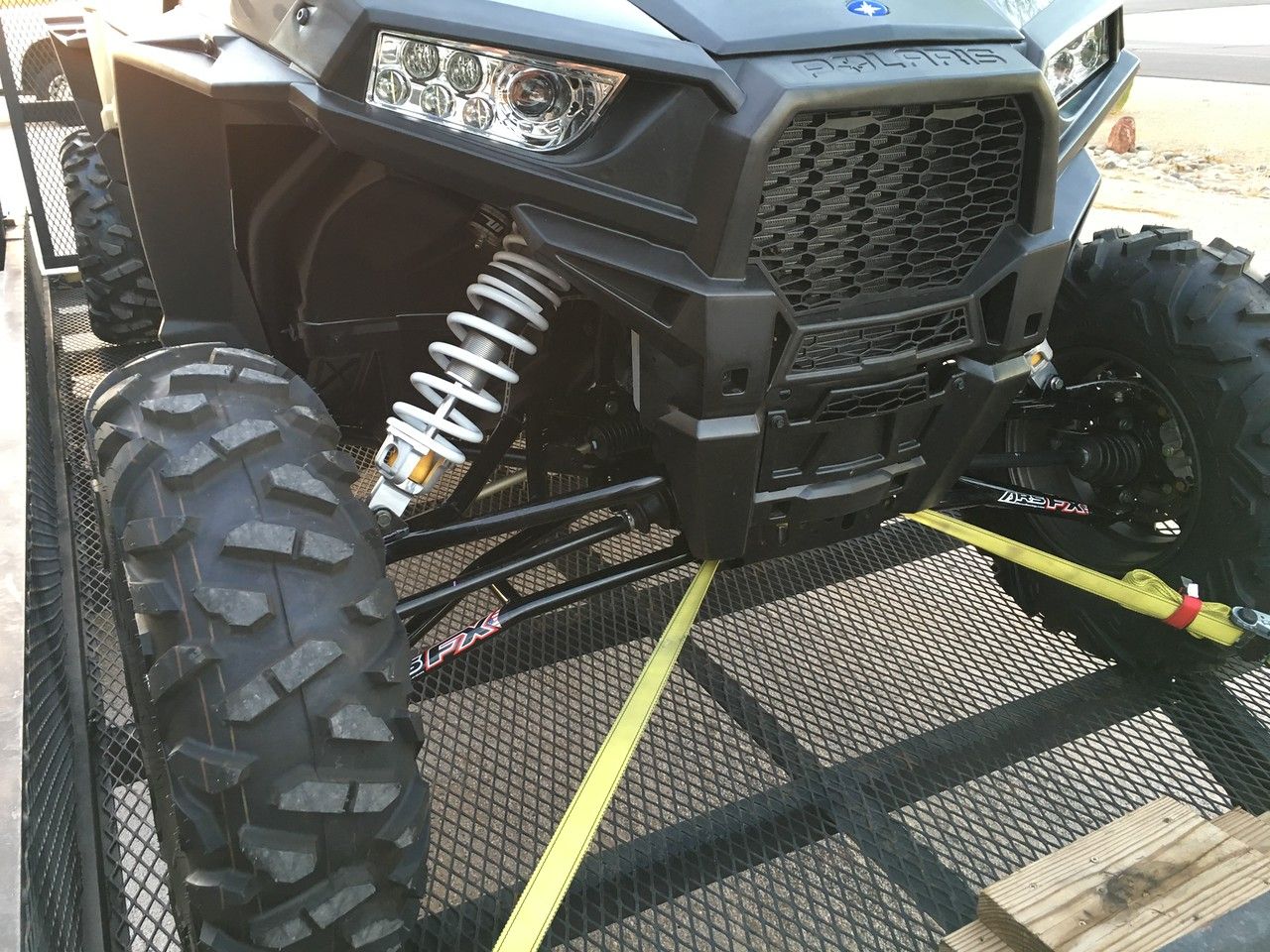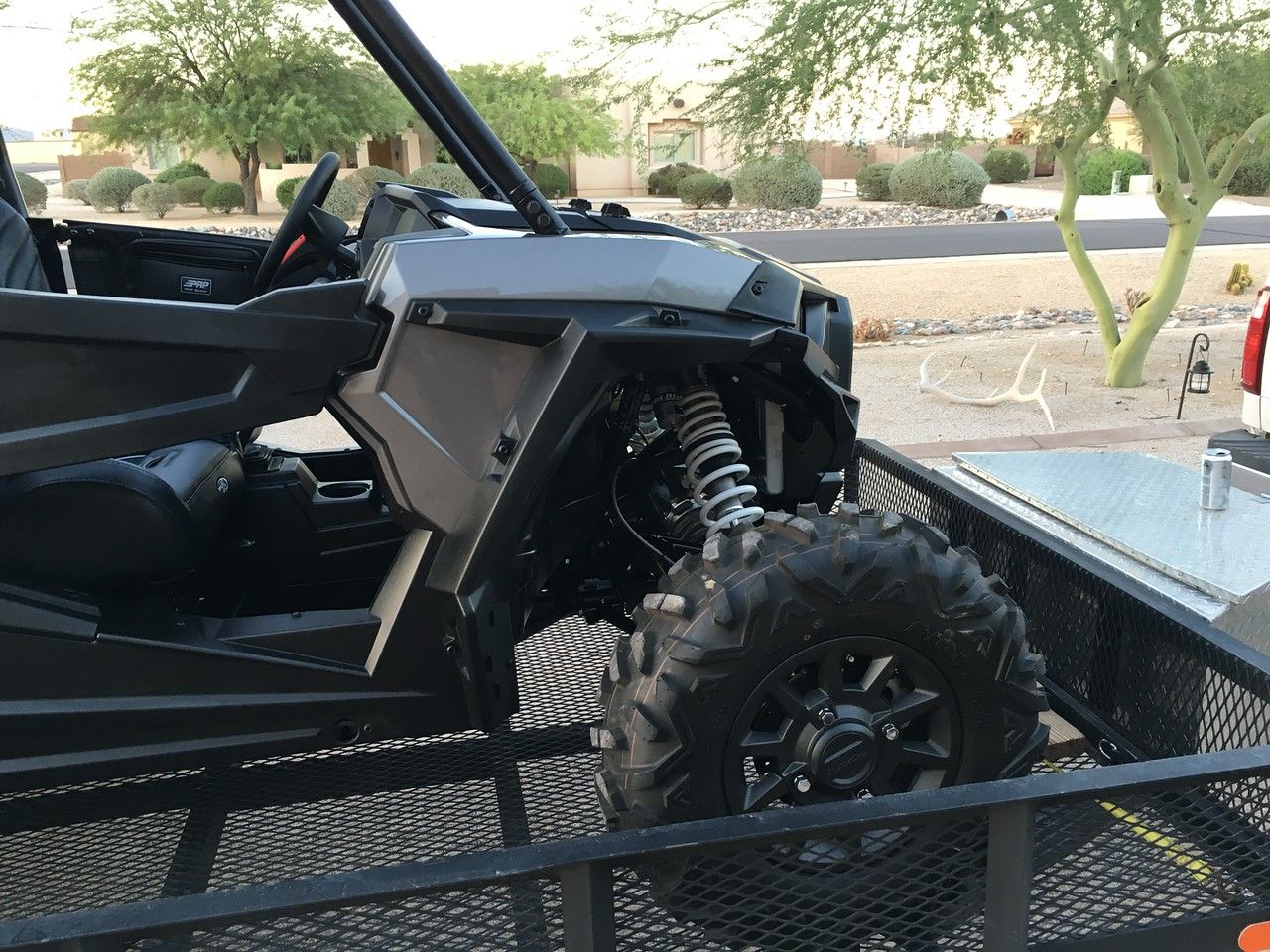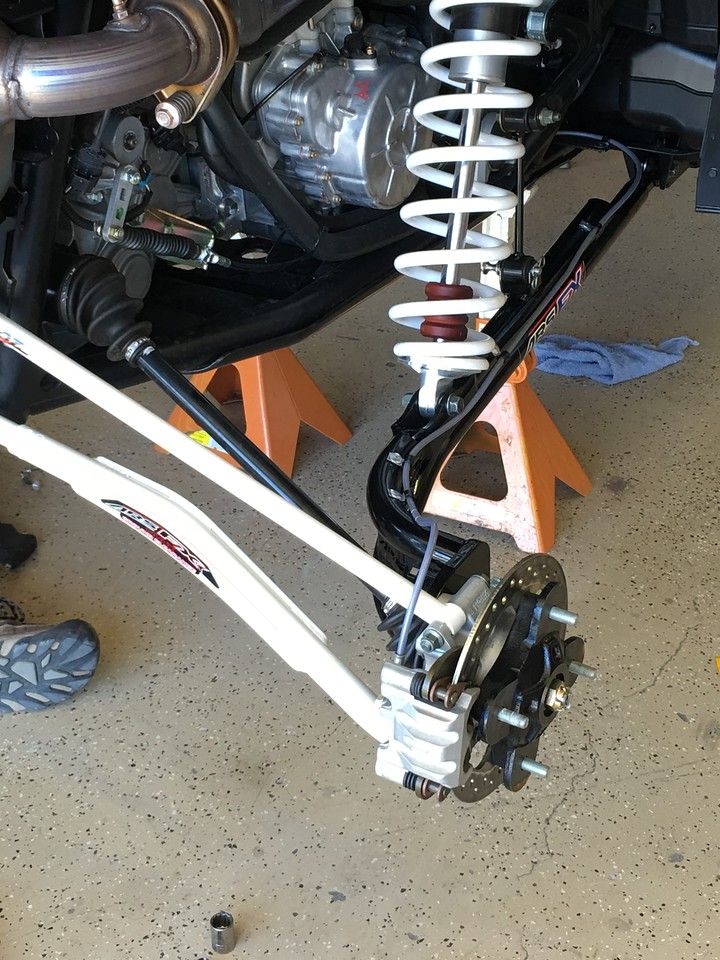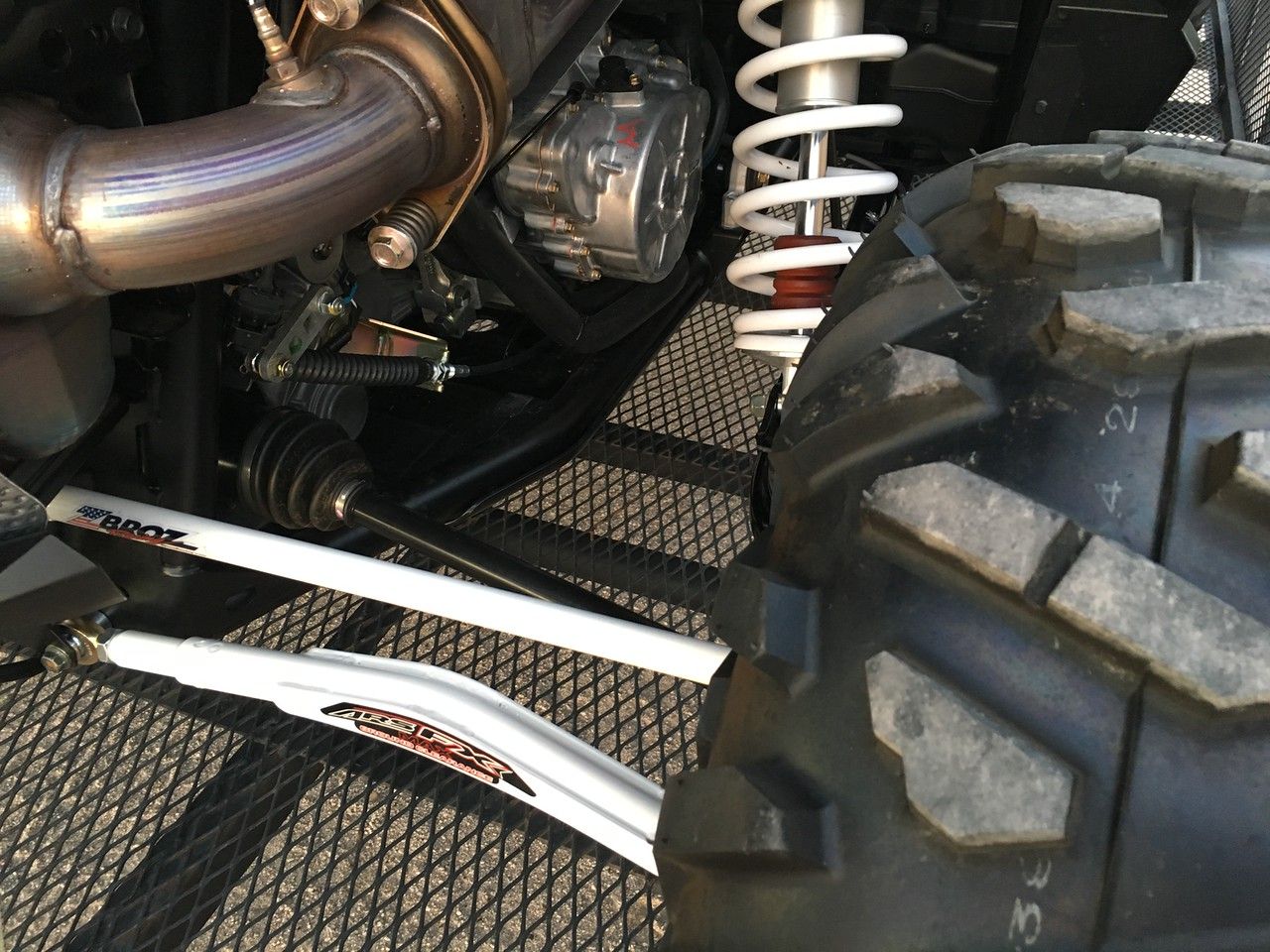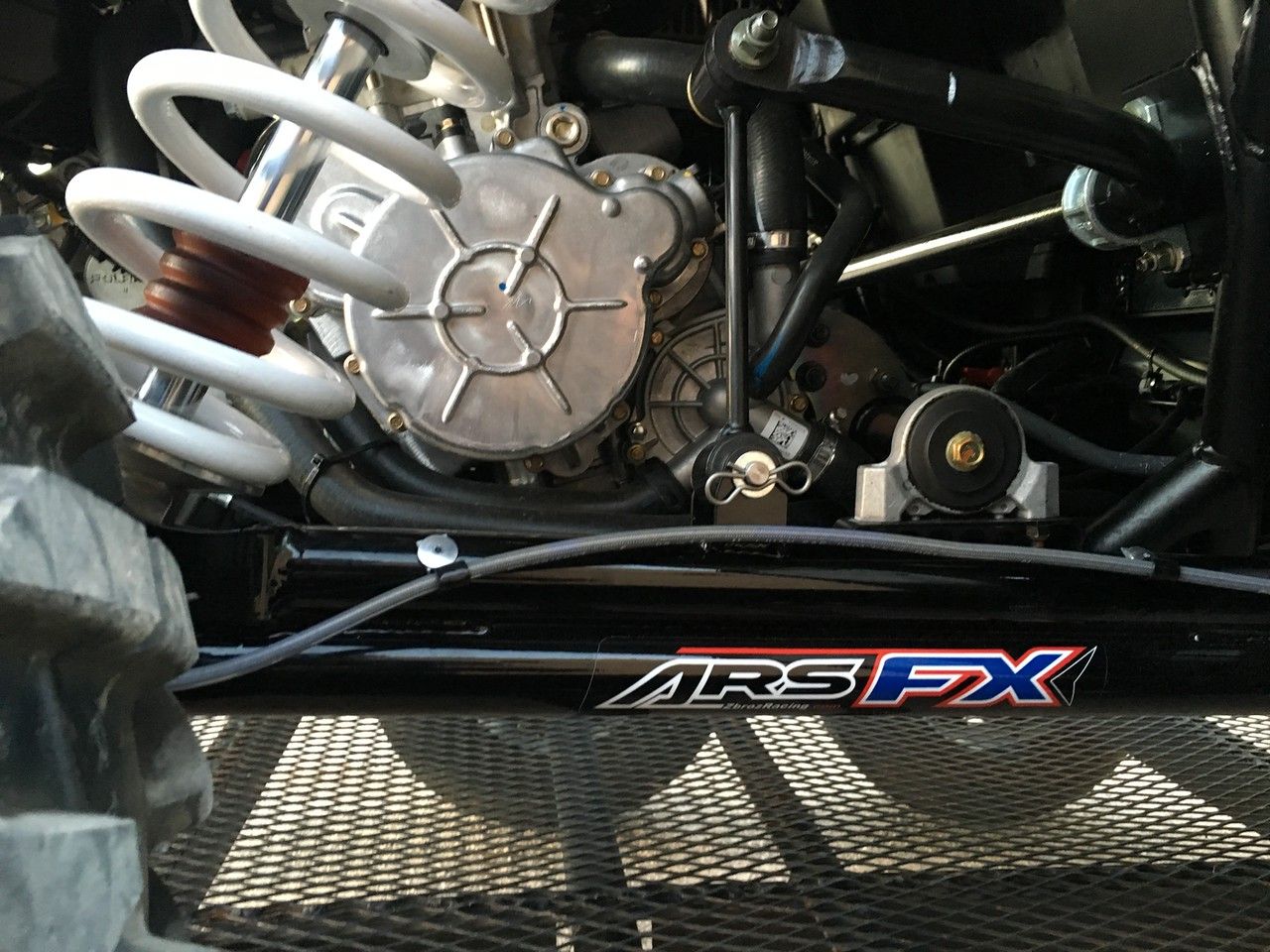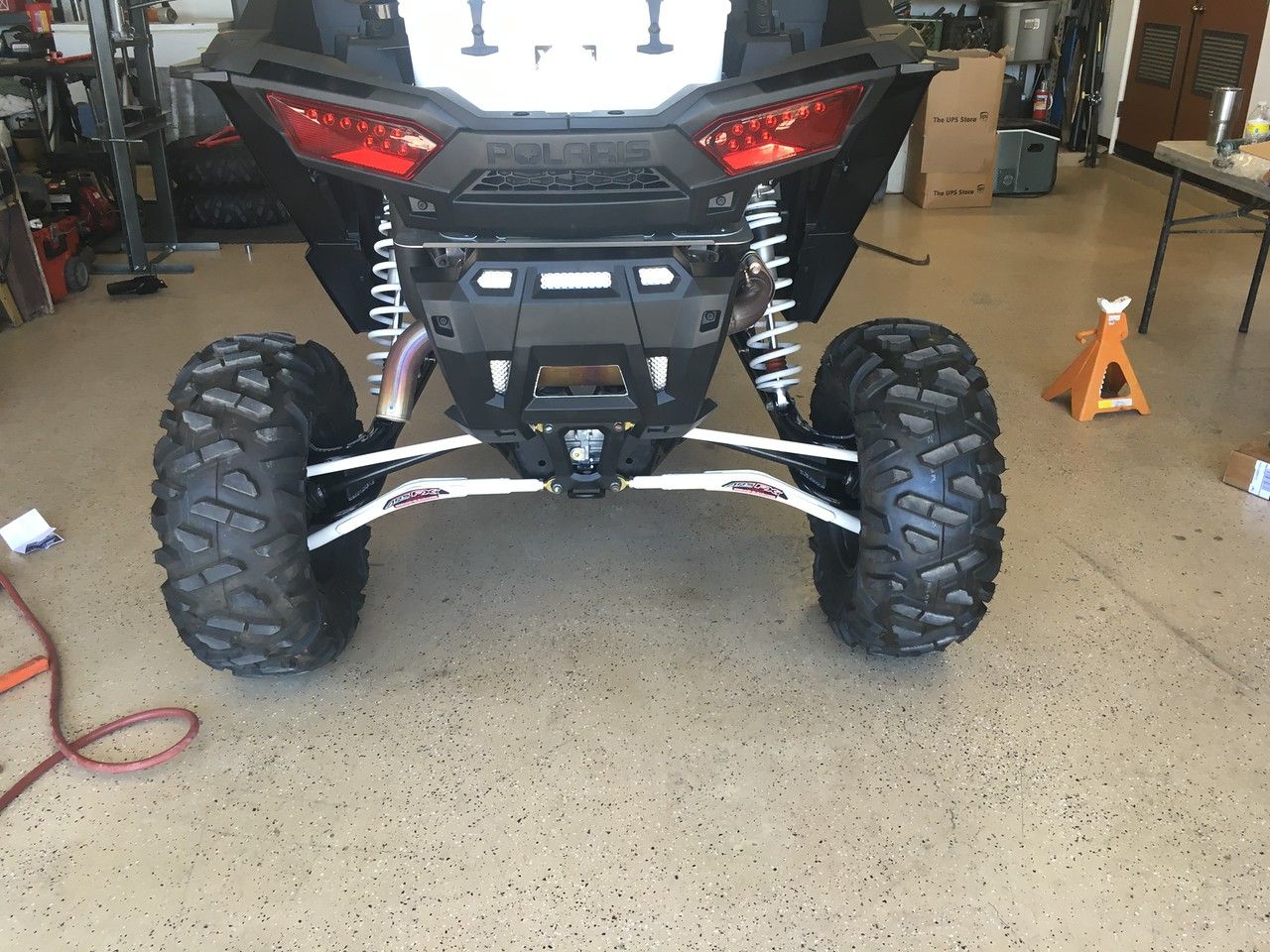 Here's the project for this weekend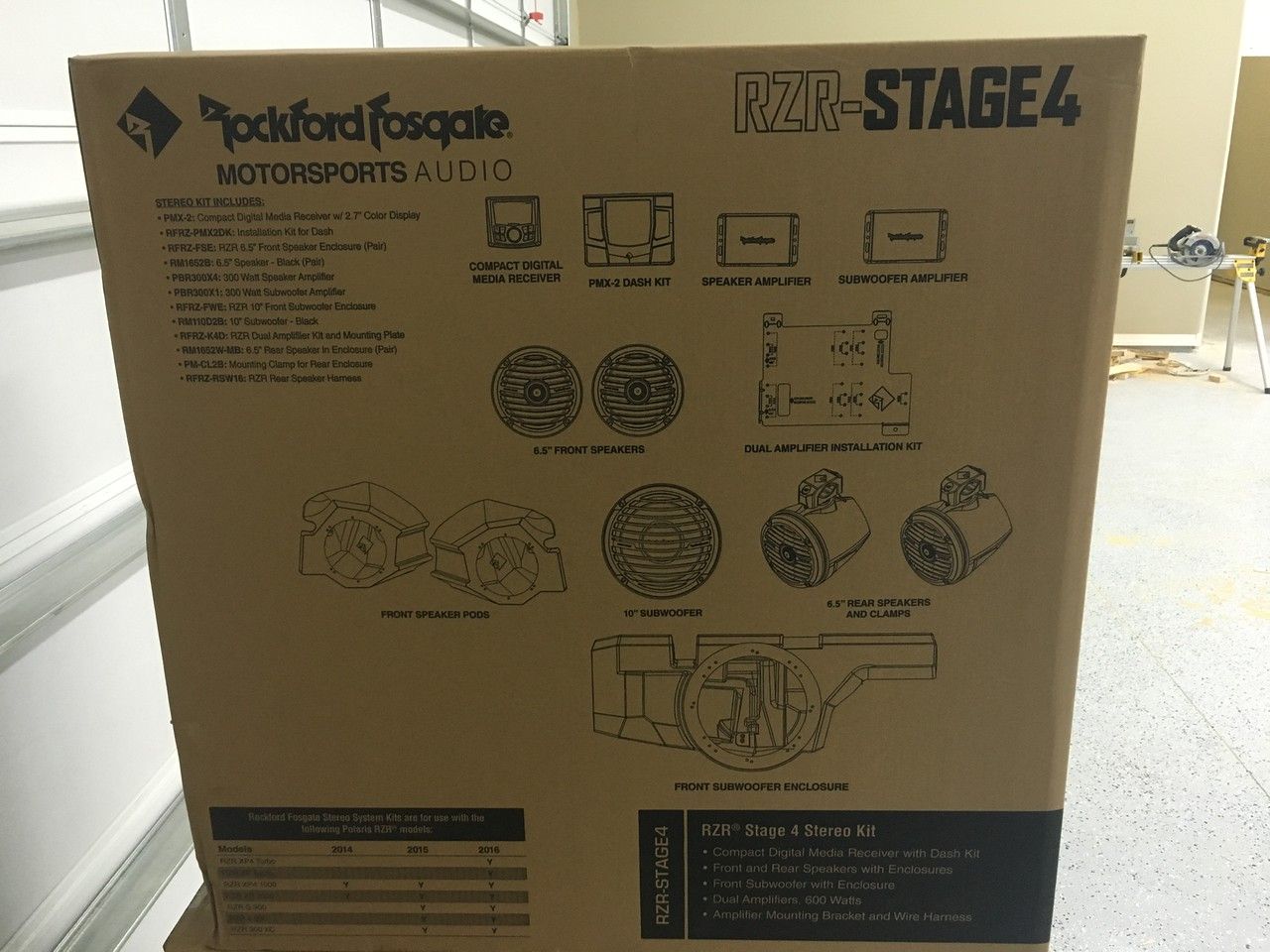 10-25-2016, 05:56 PM
Supporting Vendor

Join Date: Oct 2010

Location: USA

Posts: 232

Thanks: 4

Thanked 1 Time in 1 Post
---
Our apologies for the extended delay, everyone! Work schedules and events prevented us from posting, so thank you all for your patience. Back to the mods!
-MOD #6 | Roll Protection-
"This may have been one of the toughest decisions we had to make. After looking at a ton of different options that are available today and trying to figure out just what kind of look we were trying to achieve we came across a young man here locally (Phoenix area) that does really nice work. He only uses DOM tubing and everything is TIG welded, which to us helped solidify the decision.

Another thing that was very important to us was trying to use local small businesses whenever possible. After looking through hundreds of pictures and meeting with the owner of Chantzit Racing we decided to have Chantz Schanaman build our cage and bumpers. We are extremely pleased with the look of the finished product and couldn't be happier with the fit and finish. Not only is his work meticulous, but he has a fantastic attitude and is willing to do whatever it takes to keep a project on track and his customers happy. If you are interested in contacting Chantzit Racing please shoot us a PM and we will get you his contact info."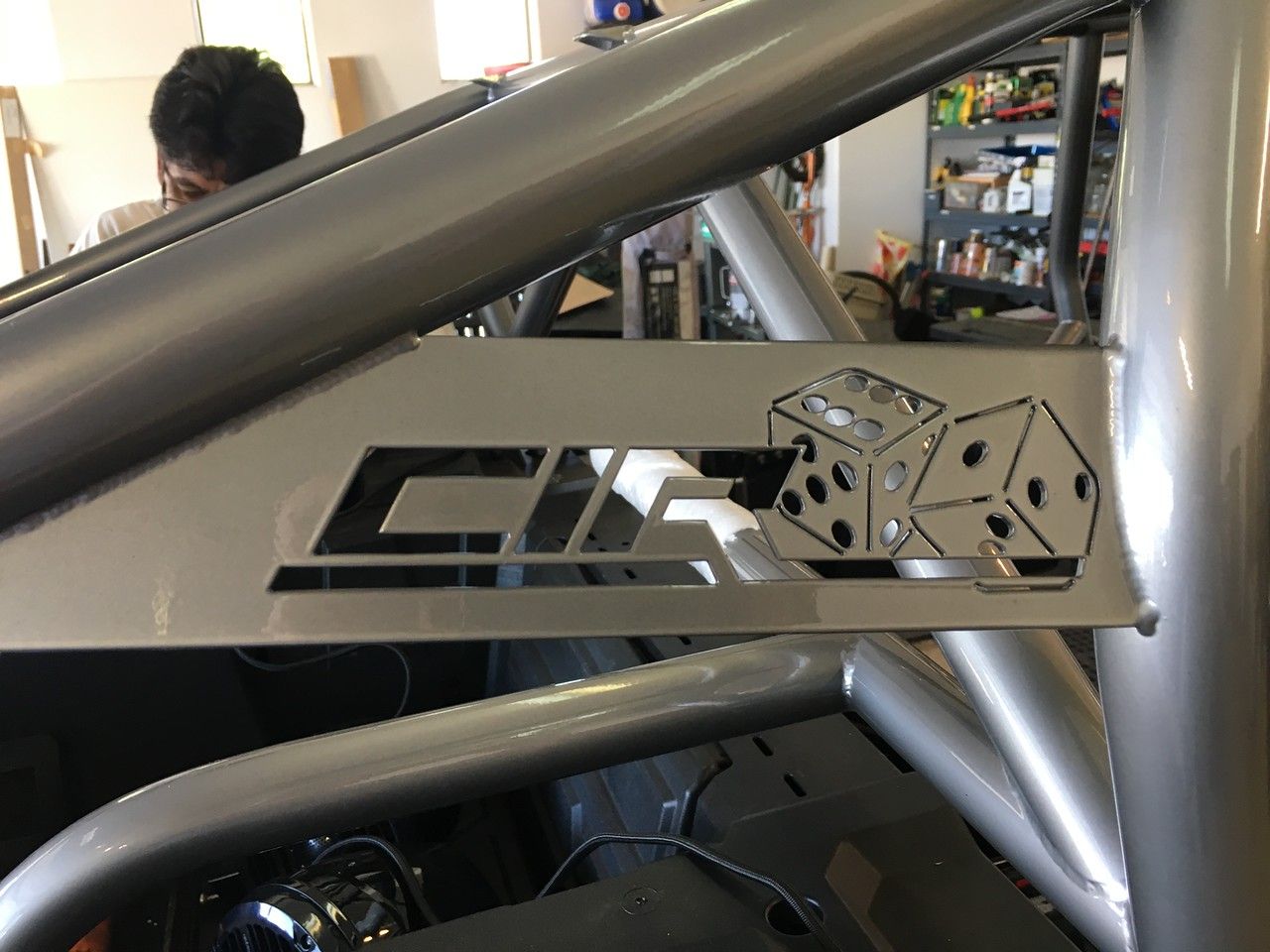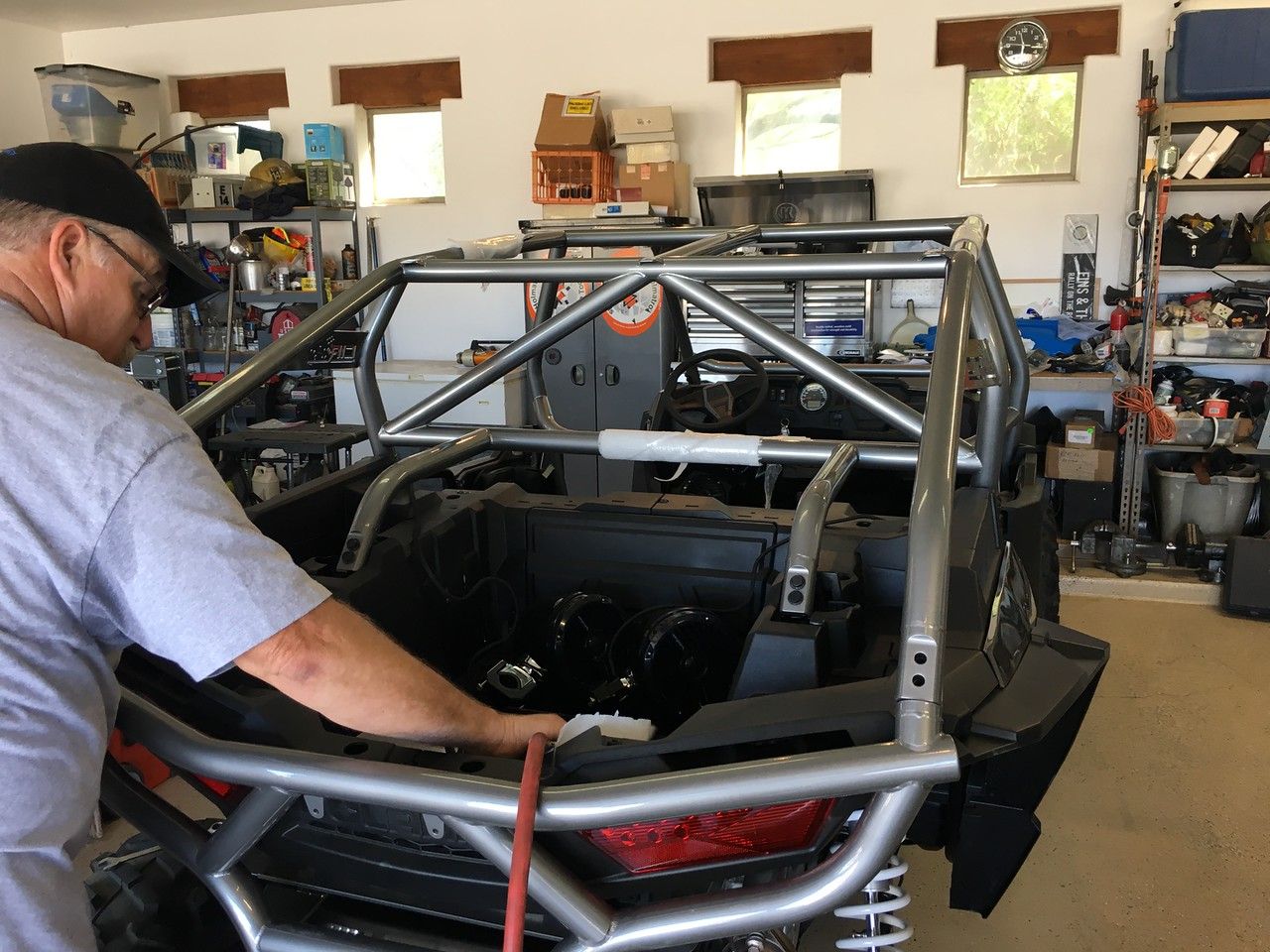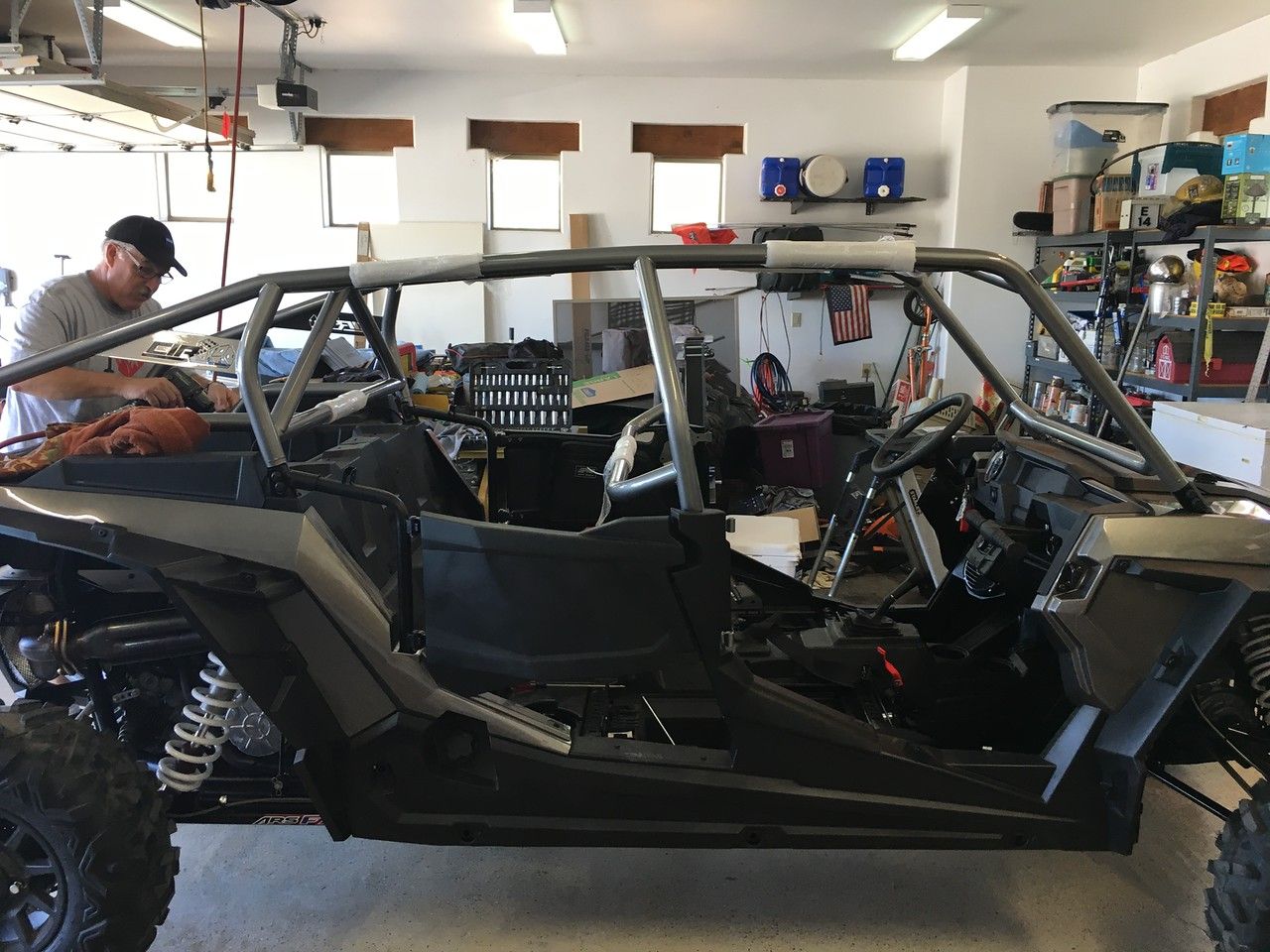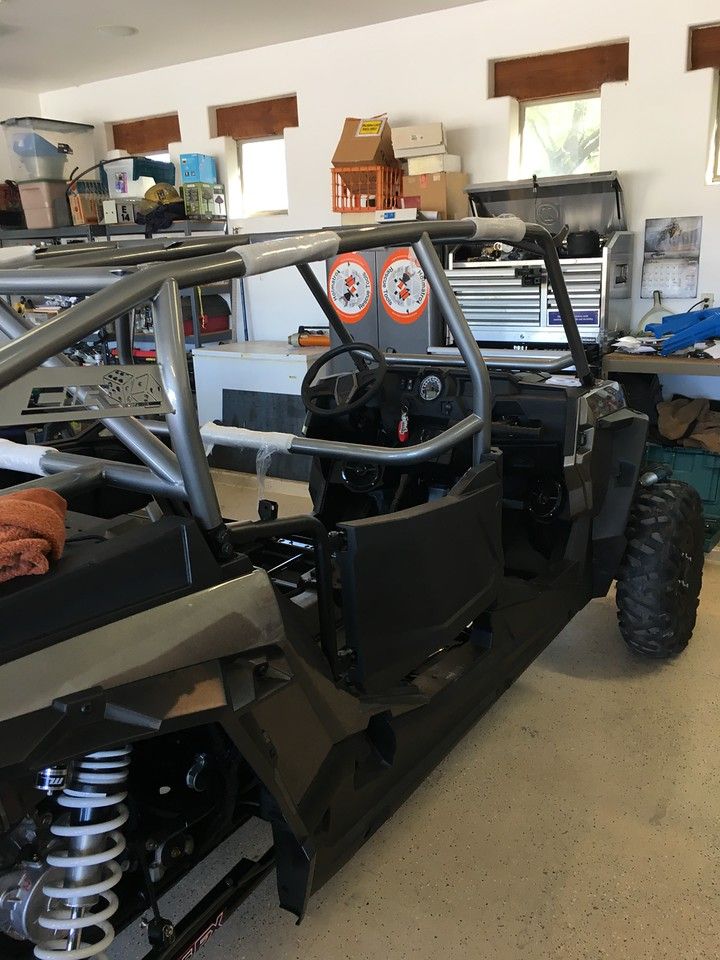 -MOD #7 | Lighting-
"Moving on to the lighting choices that were made for this project - First off, one of the most important is cab lighting. There is nothing worse than being on a night ride and not being able to see what you're doing inside the cab. It is also extremely helpful to have lighting in the bed/storage area when looking for tools, a jacket or you simply need to dig something out of the ice chest. To resolve this problem we decided on 4 of the LED dome lights from Assault Industries (front seat, rear seat and 2 in the back). They are extremely bright, use minimal power and do a great job of lighting things up".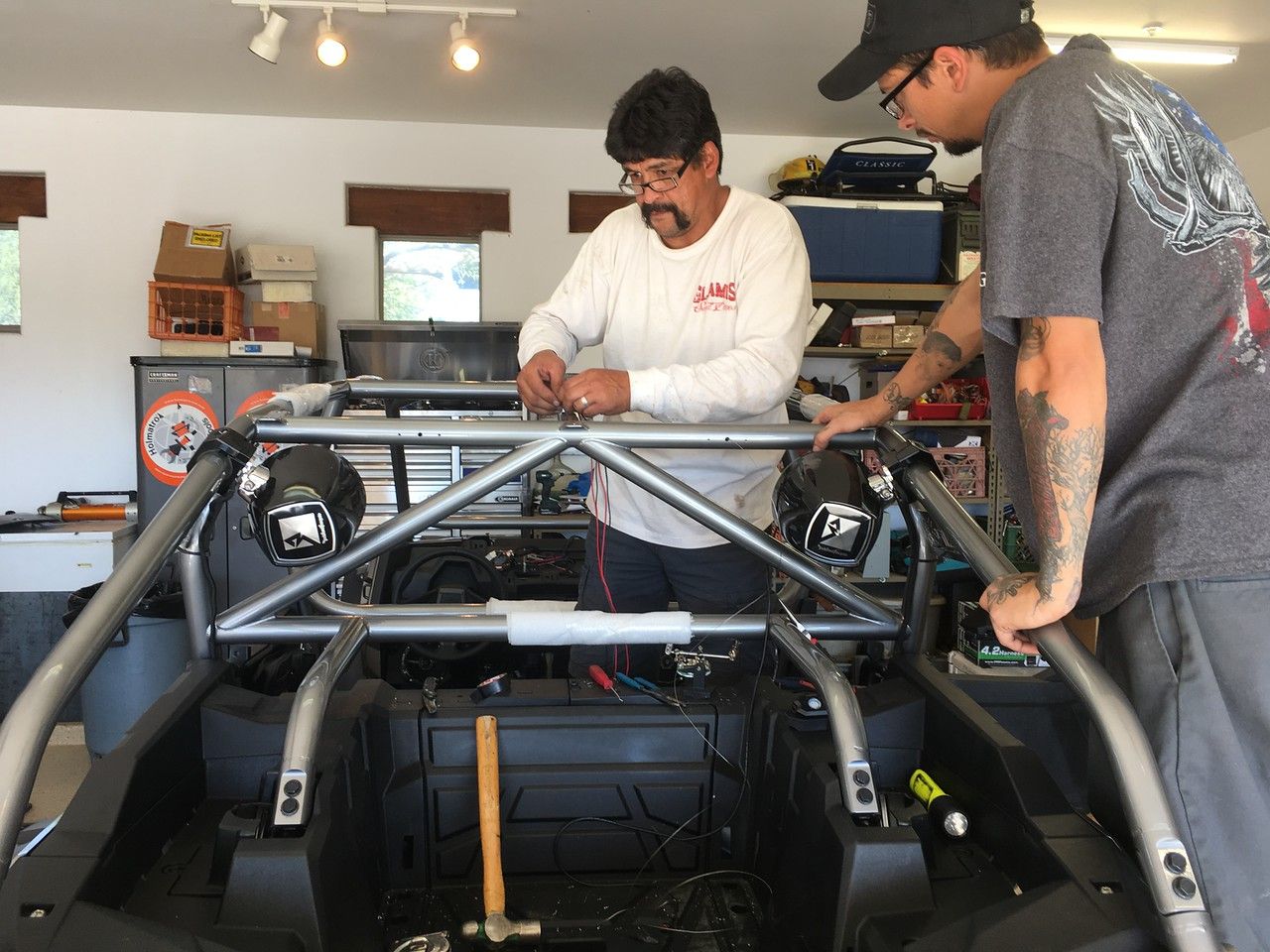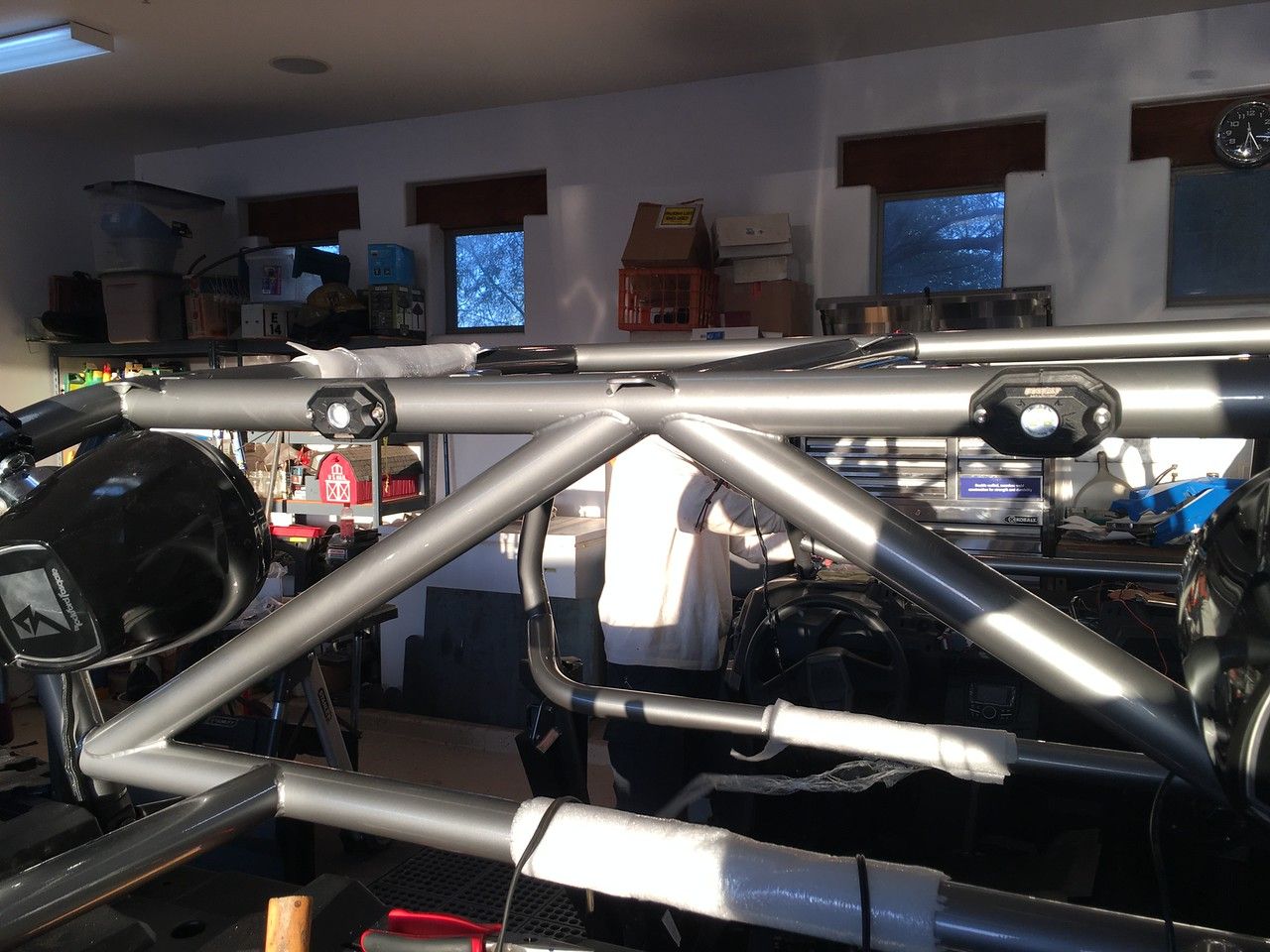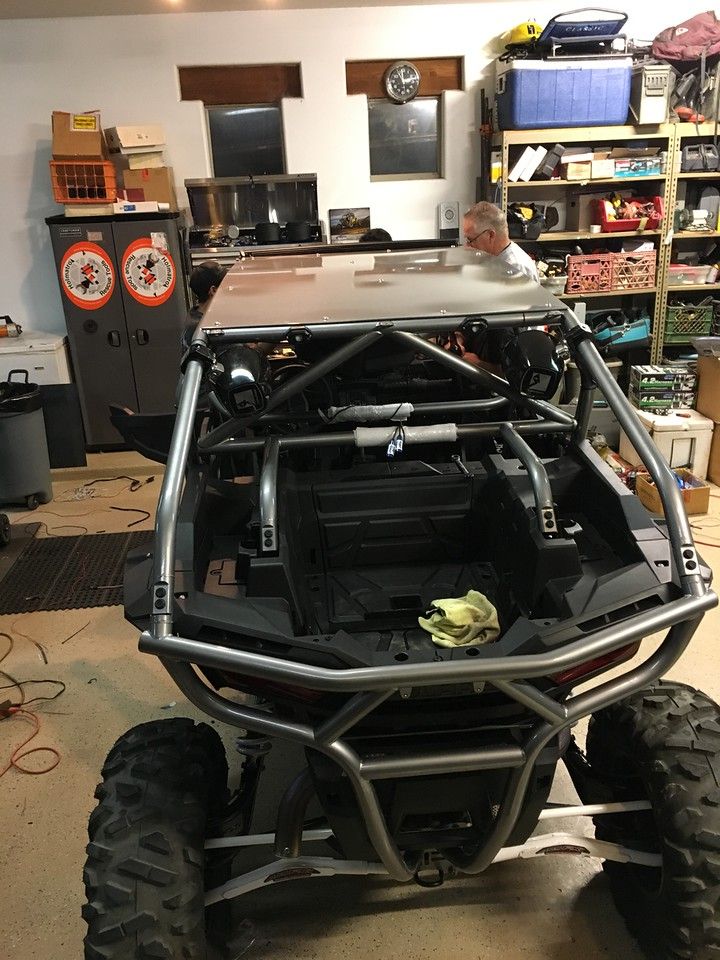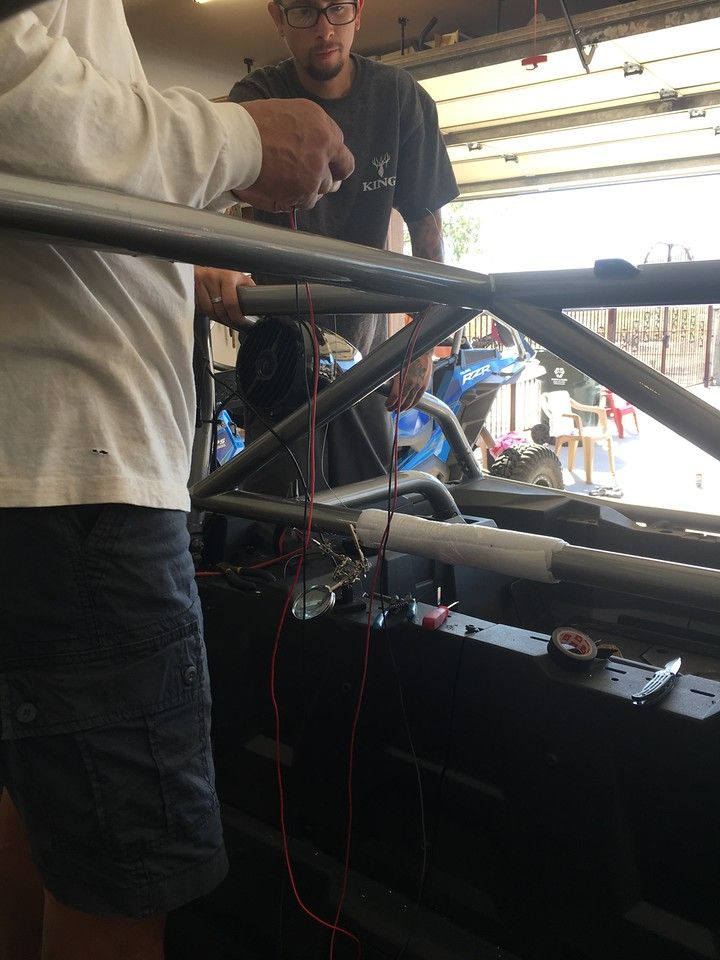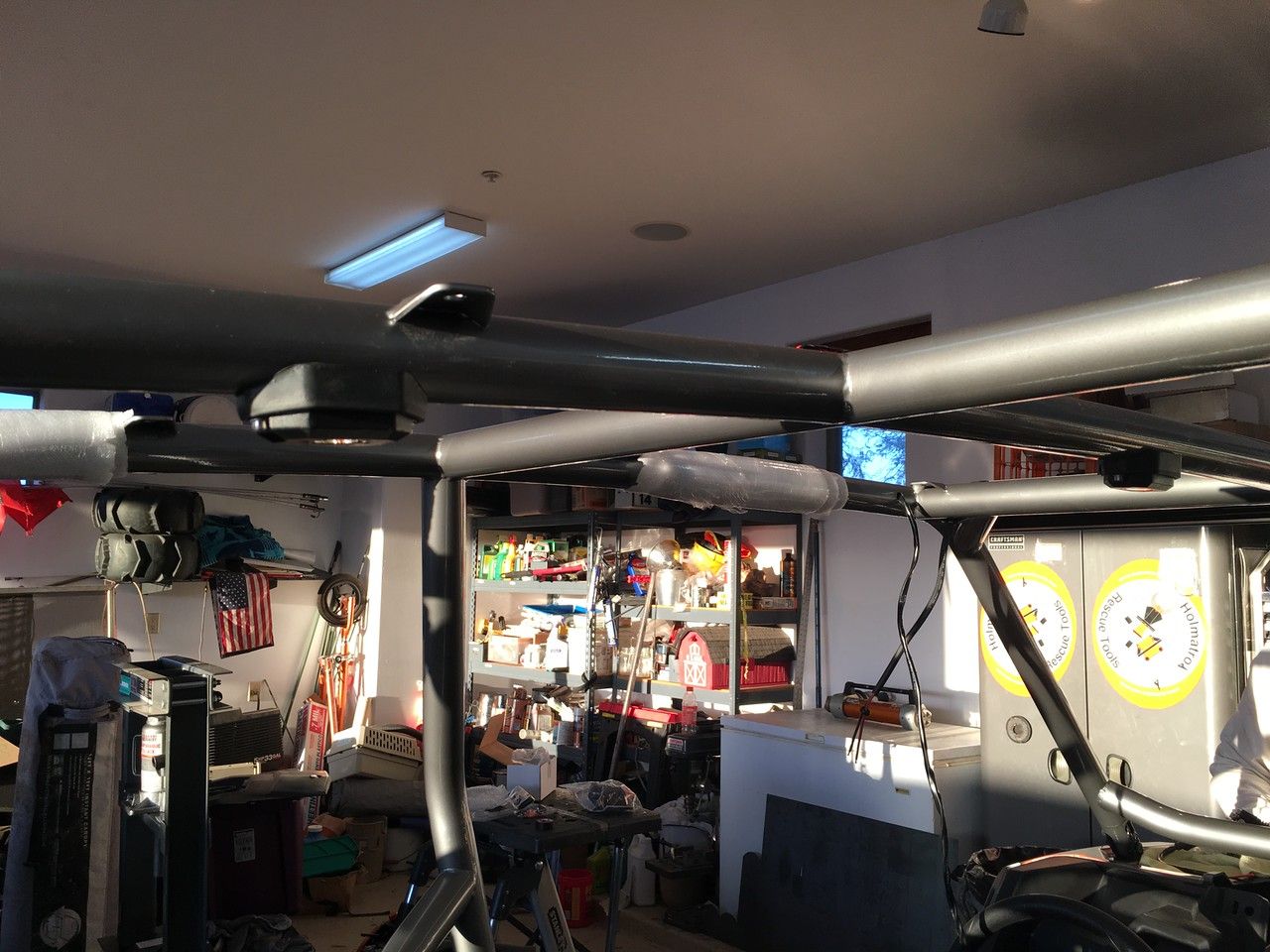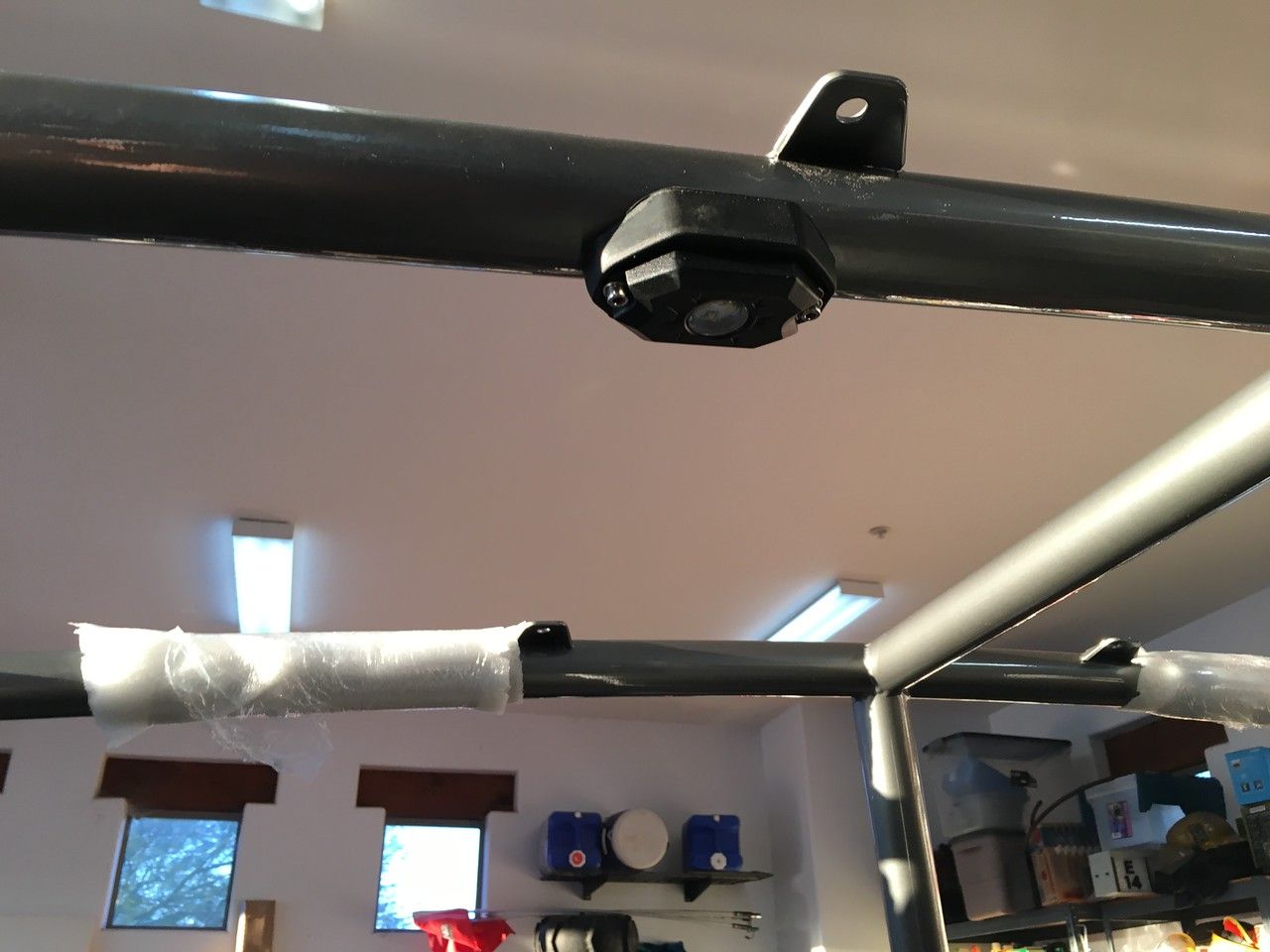 "Next up are the rock lights...For this we chose red MICROcolor LED's from Lux Lighting Systems. These things are incredibly well made, the magnetic bases make mounting super easy and they are crazy bright for how small they are. The construction of these lights are top notch! We wanted to simply create a warm glow effect versus creating true light for rock crawling and we feel like the MICROcolor choice was spot on".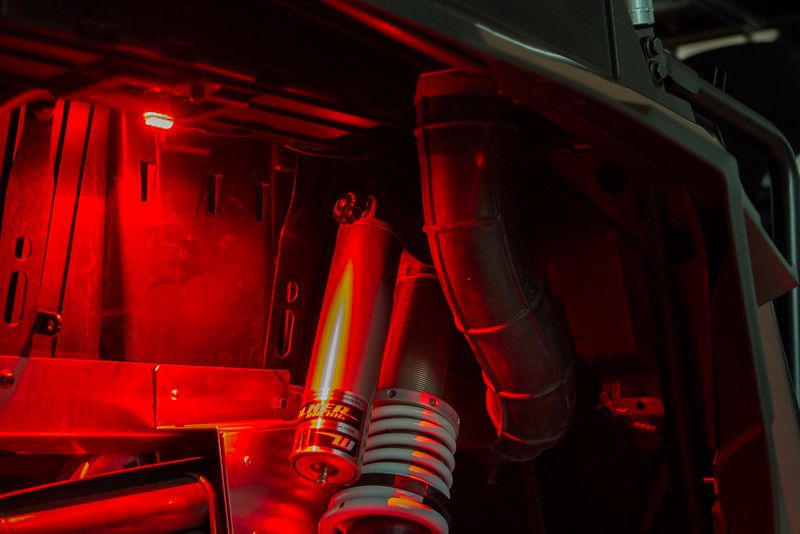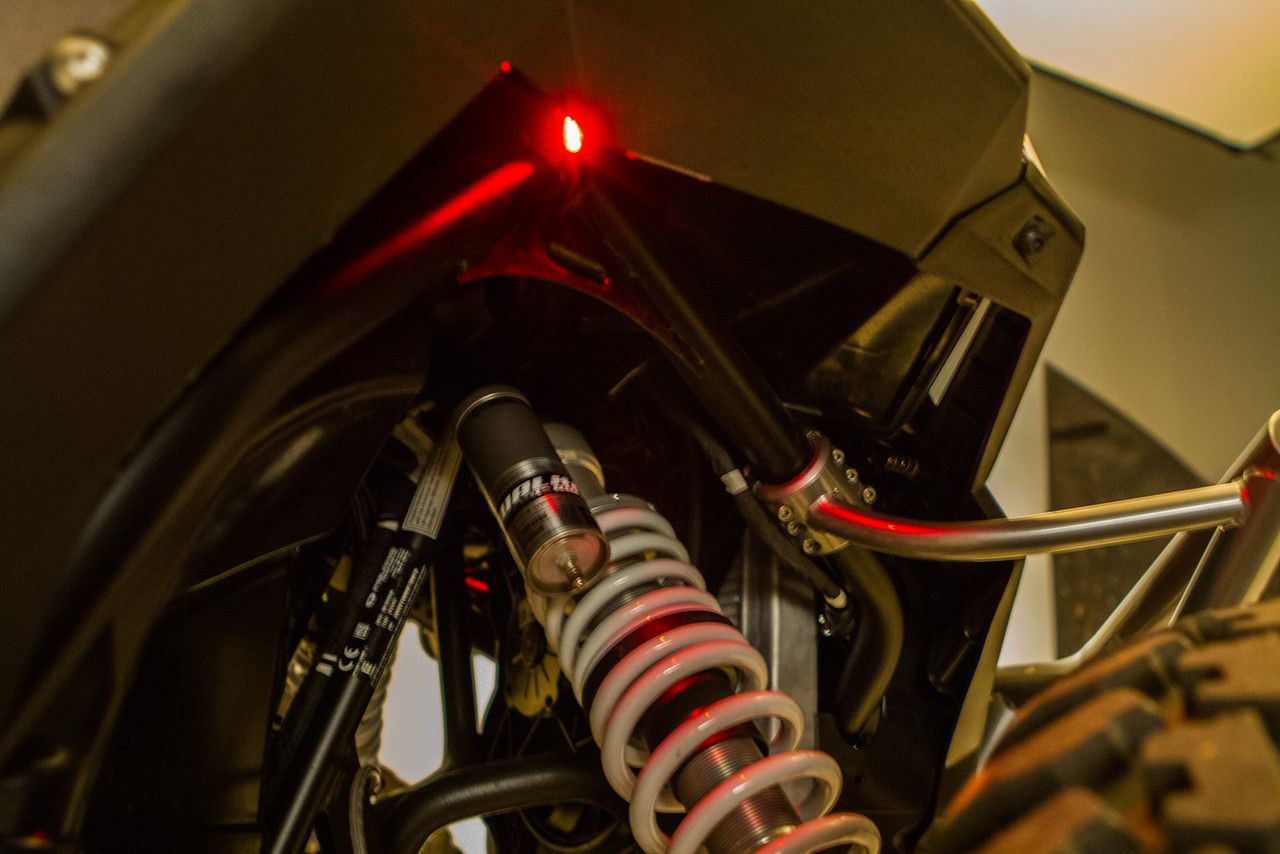 Last but certainly not least are the light bar and A-Pillar lights - For the light bar we chose a 42" radius bar from Mictuning. Many of you are probably thinking "Why did they go cheap on this part?". Well, the simple answer is because we want to see just how well the less expensive product performs and lasts compared to some of the more expensive lighting options available today. So far, the Mictuning bar is extremely bright, appears to be well constructed and was a piece of cake to install. Time will tell if the $700-800 savings pays off".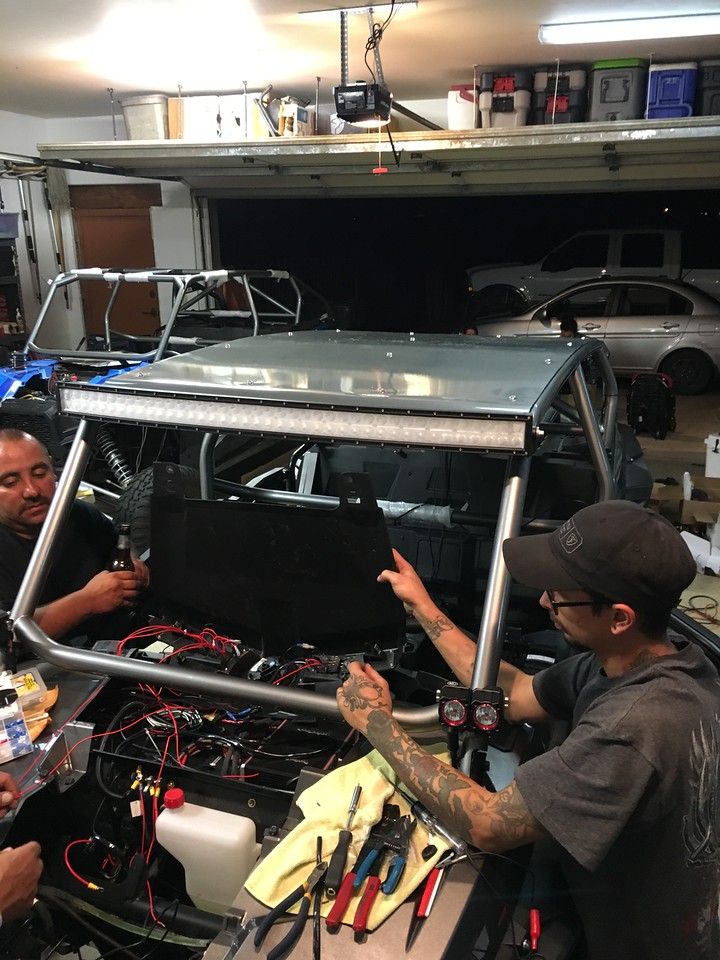 "We upped the game a bit with the A-pillar lights and went with KC Hilites Flex LED Duals with red bezels. I must admit, these things put out some amazing light! The construction of these lights is flawless, they seem to be made to stand up to anything that is thrown at them and we couldn't be happier with the way they look".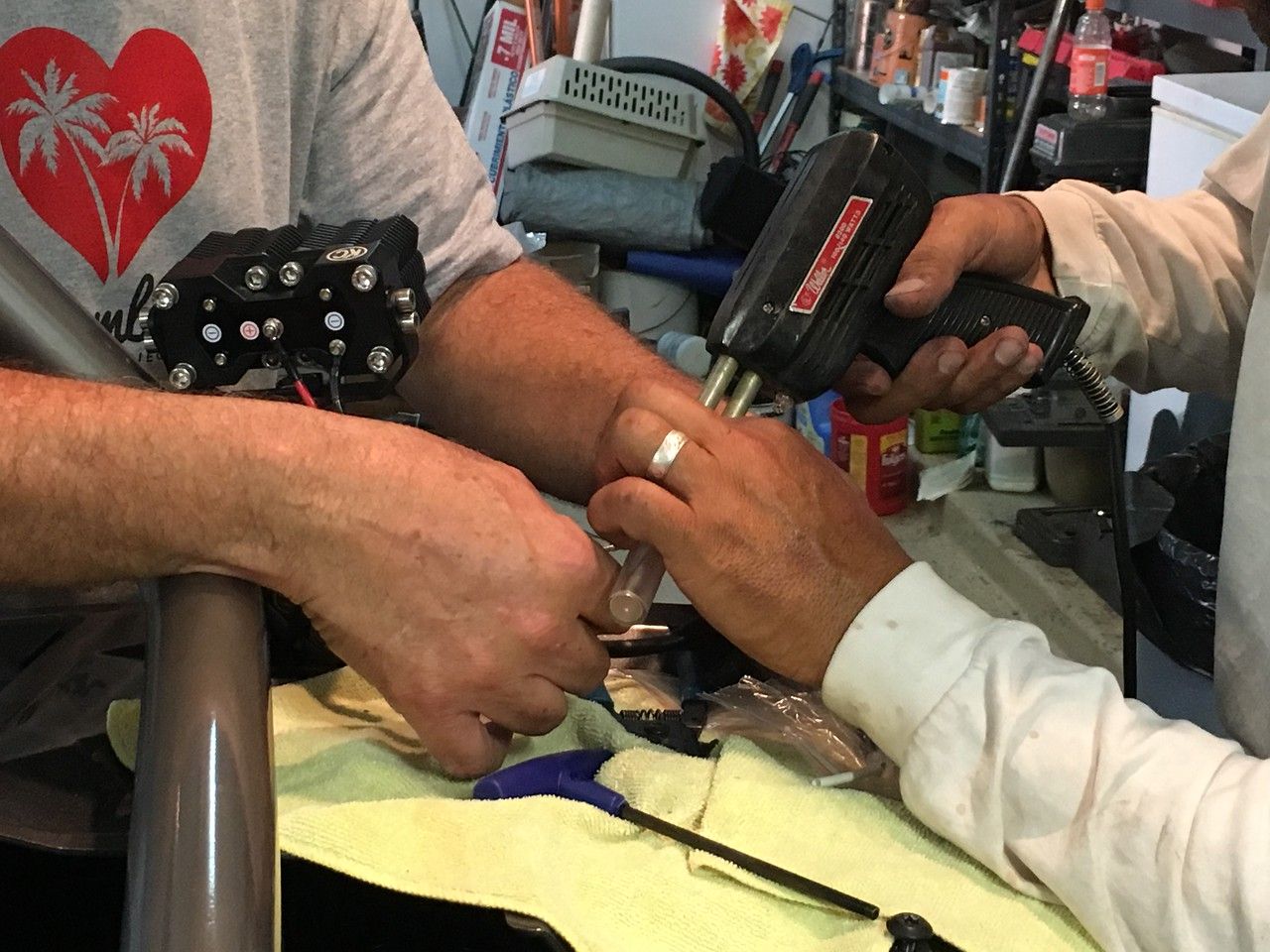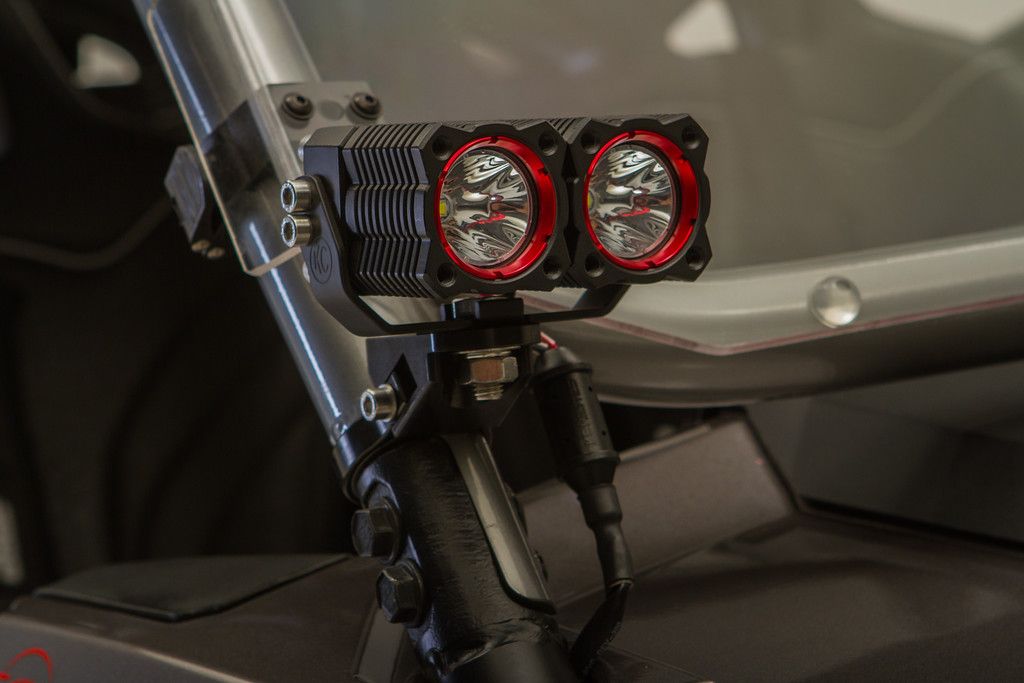 "All in all we are very happy with all of the lighting options on the "Shades of Grey" build. We did not run into any installation problems or defective parts. We are very excited to get this out to Glamis and Moab to find out just how well everything performs and holds up in the real world! We will be sure and keep everyone posted with the good and/or bad that comes in the future."
-MOD #8 | Headlight Covers & Windshield-
Marty over at MotoArmor was kind enough to help us out with a set of really cool headlight covers and hard-coated 1/2 windshield. Let me start by saying, "I love the way the headlight covers look"! I realize that this may not be everyone's cup of tea but I really like the fact that it makes the RZR stand out from the crowd without being obnoxious. The tinted lenses that are offered by MotoArmor are also very cool. We were lucky enough to have ours in time to get them powder-coated at the same time as the cage, bumpers and dash accessories so that kinda adds to the cool factor also. They were super, super easy to install and should help protect the factory headlights and get us a few nods in "looks good" department.

The windshield was a super easy install on our aftermarket cage once we decided that it should follow the crossbar on the cage versus resting against the hood. Because the dimensions are different on our cage versus the stock cage, we had to make some modifications - This was easily accomplished with a router table, painters tape and a sharpie marker...We think the end result is a very cool looking, very, very functional 1/2 windshield. We are trying to decide whether or not to have it tinted .... What do you guys think .....Tint or Clear ???

-Chad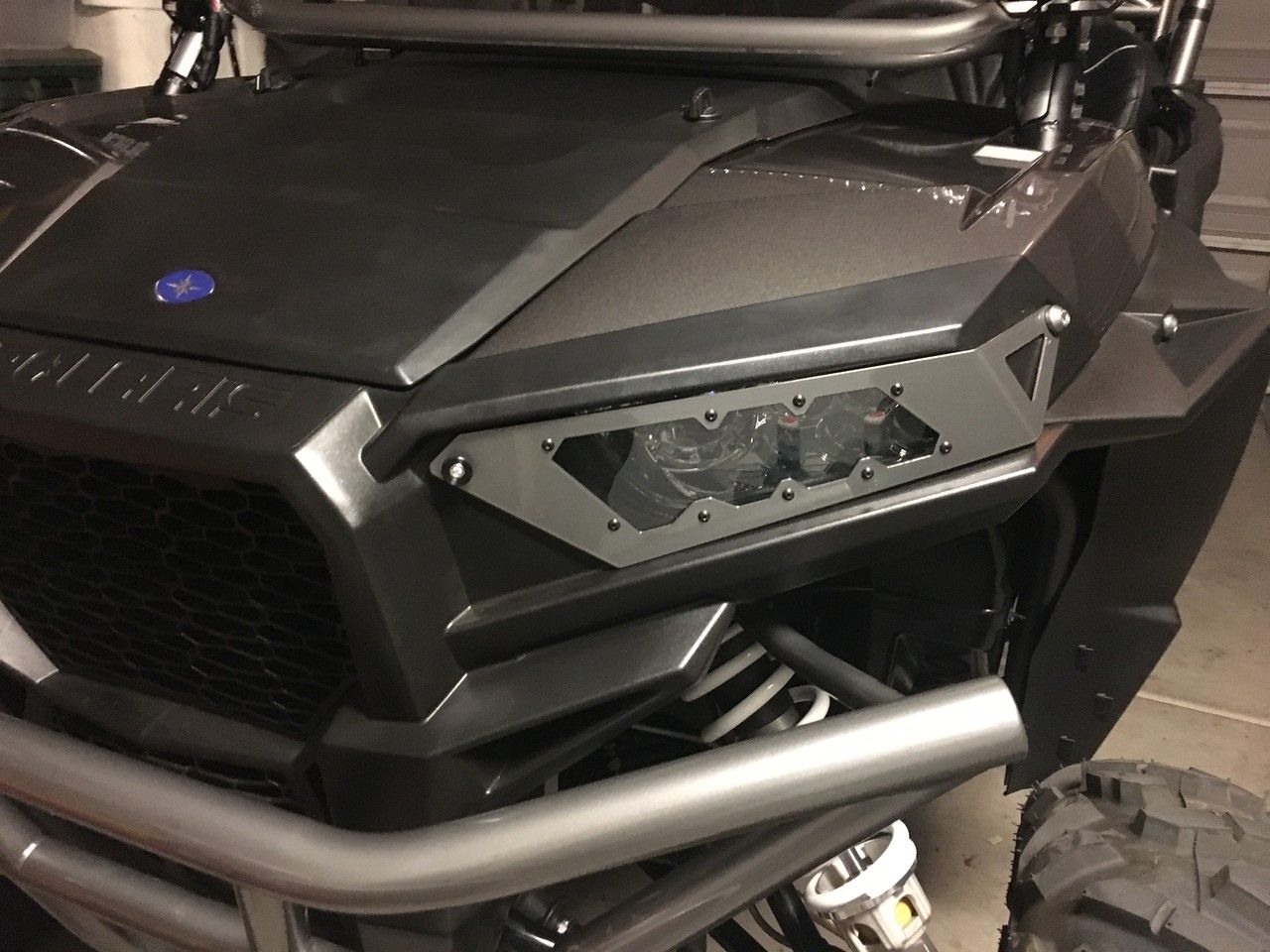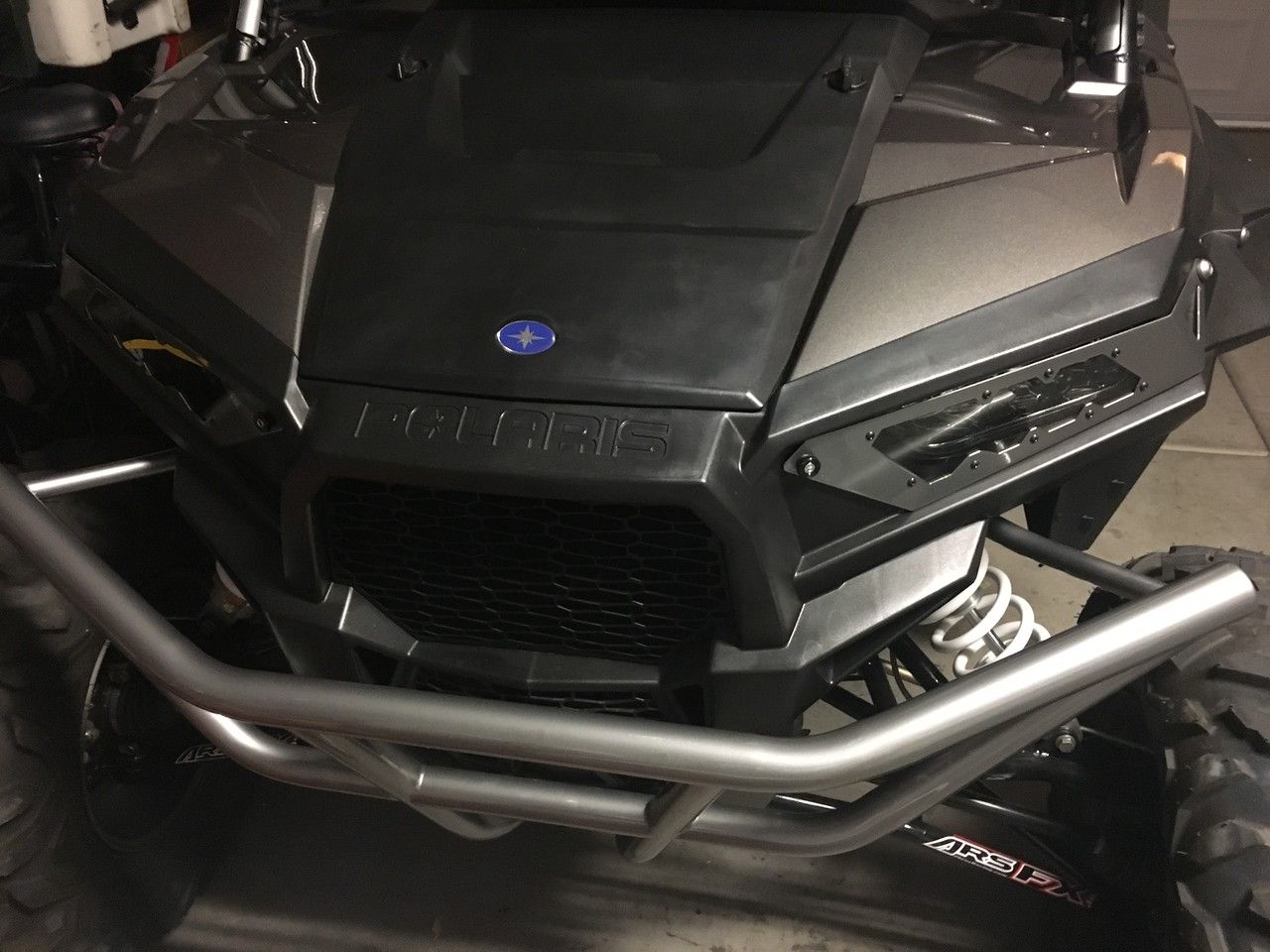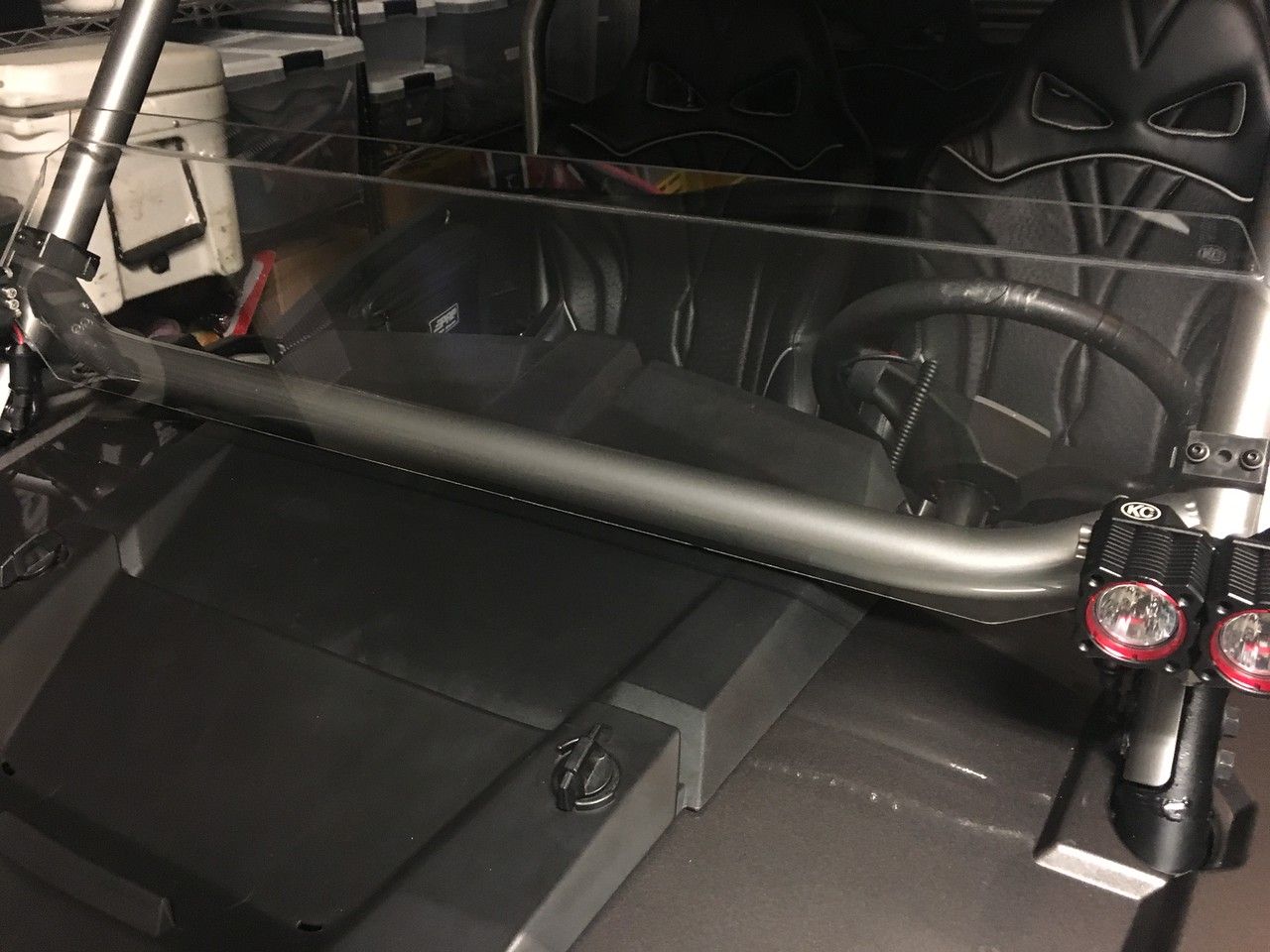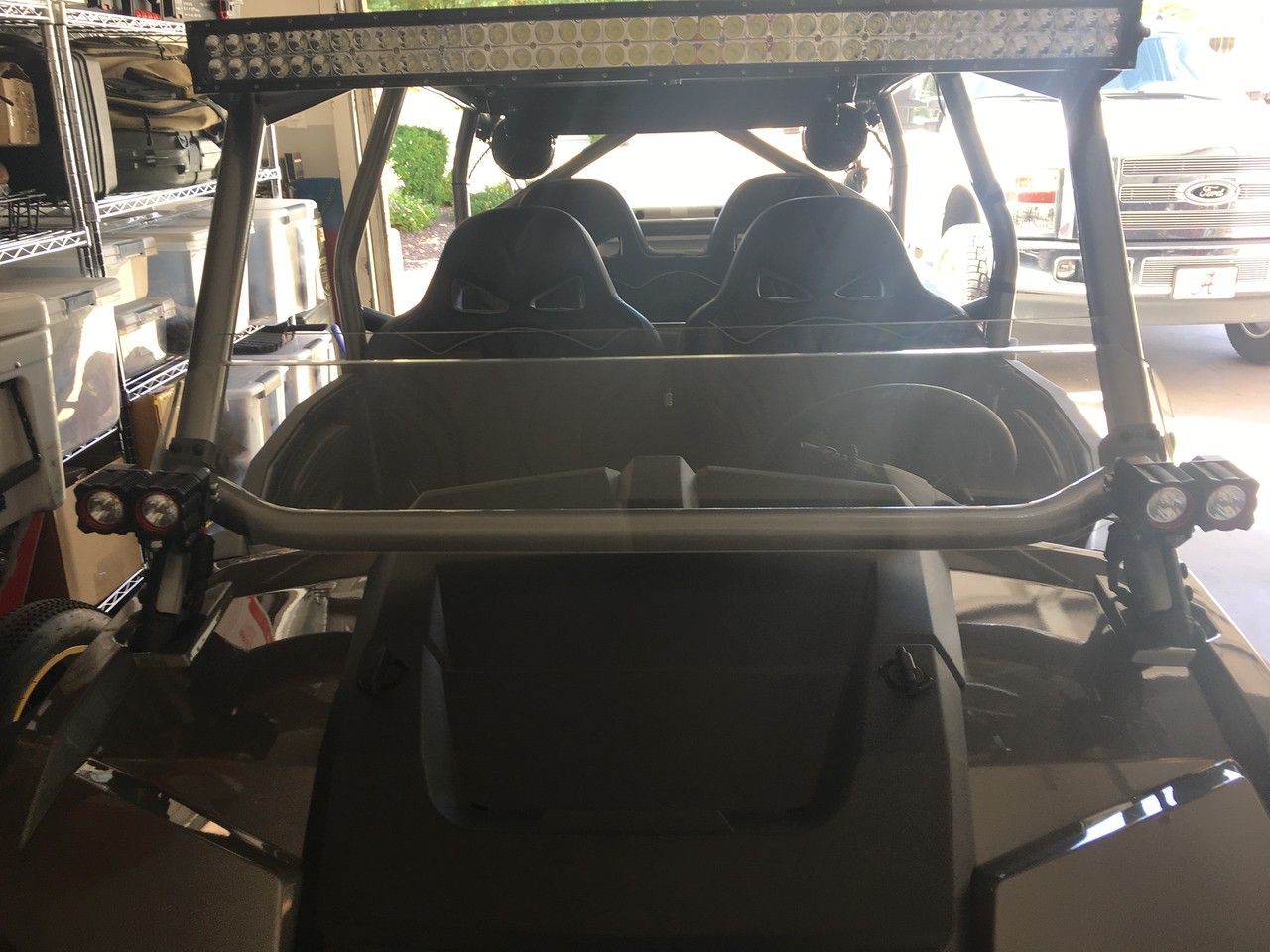 | | |
| --- | --- |
| | |
Posting Rules

You may not post new threads

You may not post replies

You may not post attachments

You may not edit your posts

---

HTML code is Off

---
All times are GMT -5. The time now is
07:02 PM
.