| | |
| --- | --- |
| ammeter hookup | |
Jeepster-American Jeepster Club
Please also visit our club web site for more information at http://www.americanjeepsterclub.org/
| | |
| --- | --- |
| | |
08-15-2003, 12:49 PM
Enthusiast

Join Date: Sep 1999

Location: NY upstate,

Posts: 339

Thanks: 0

Thanked 0 Times in 0 Posts
ammeter hookup
---
Spent yesterday doing an upgrade to GM alt. Took me a while to realize the dash indicator light bulb was not working.(Easy to check.My had corroded contact). Don't know if the bulb being out stops the alt from working but it all works now.
My question is this. I have a set of gauges, one is an ammeter. It has two posts, no wires on it at this time. How do I connect it so it works. Thanks any info.

P.S. Thought I had really done somthing wrong, Hooked up my battery charger, the lights went off, then I heard the whole east coast was out. Was relieved to hear it was a problem in Canada and not my charger that had caused it.

















08-15-2003, 03:13 PM
Old Hand

Join Date: Jan 2001

Location: San Diego, California

Posts: 843

Thanks: 0

Thanked 0 Times in 0 Posts
Re: amp meter hookup
---
I'm not an electrical engineer - but I did sleep in a Holiday Inn last night. [img]images/graemlins/grin.gif[/img] Here's my best description:

Unlike a voltage meter which just gets any old 12v wire, the amp meter gets hooked up in line with the main supply wire from the alternator to the battery (or starter or wherever else you have that big, fat wire from the alternator hooked up to). Not just tapped into it - but in line. The entire current must go through the amp meter since its measuring the alternator output. That's it. Wire in - wire out.

I personally don't like them much. That's a lot of current to run through the firewall, up to the dash and back. In fact, my Jeepster had an amp meter in it when I first got it. The whole electrical system would go dead every so often, then reset itself after a few minutes. I couldn't figure it out until I realized that the insulation on the wire to the amp meter had rubbed off and was shorting out my whole electrical system. In fact, I only realized this after it almost caught the dash on fire. [img]images/graemlins/cussing.gif[/img] There's still a slightly used amp meter in a ditch on the northbound side of I-5 if anyone's interested.

08-15-2003, 04:29 PM
Re: amp meter hookup
---
Yeah, that's basically it. A voltmeter is in parallel with the load (ie the whole car) while an ammeter is in series. The ammeter is basically a voltmeter across a resistor; it has a precisely calibrated resistor inside it that causes a voltage drop between the two posts. The current is determined by the voltage drop across that resistor; V (voltage) / R (resistance) = I (current).

Not sure about the Jeepster gauges, but in the SJ the ammeter has caused quite a few vehicle fires, either that or gauge cluster melts into a useless blob. Failure of the ammeter can also cause a no-start condition. Guys on the SJ board recommend that owners bypass the ammeter to avoid a fire and/or destroying the hard-to-replace dash cluster.

hth [img]images/graemlins/cool.gif[/img] Tim
08-15-2003, 06:10 PM
Way Outta Control

Join Date: Sep 1999

Location: usa

Posts: 10,815

Thanks: 0

Thanked 1 Time in 1 Post
Re: amp meter hookup
---
Bad wiring technique will cause a fire - whether a big wire for an ammeter, or a tiny little wire to run a tiny little bulb.

The ammeter - the way previously presented has lots of current flowing into it - dangerous. The ammeter will read the output of the alternator if it's in series with the output - it makes you feel good watching it, knowing the alternator's putting something out - but is it enough? You can watch it charge right up until the battery goes flat! Not much of a diagnostic or monitoring tool like that.

Normal installations where ammeters were used - since about 1915, the alternmator is connected differently.

I know many folks hook it up wrong, even magazines don't show it like it should be.

The alternator - or generator is connected to the load - the rest of the system. The ammeter is connected between the load and the battery. That way it monitors what's going into, and out of, the battery.

Note that most ammeters only show up to +-30 amps. Most alternators are capable of much more than that. Running more through the ammeter will cause a fire!

Hooked up right: Under normal circumstances it shows a slight charge (+) right after starting since the starter drained the battery a little. Then as the battery charges, the meter drops to 0. The battery is no longer being recharged, it's full. The alternator is providing all the current to the load - lights, ignition etc. No current is flowing through those ammeter wires -- they stay nice and cool. A battery really can't, and won't accept more than a 30 amp charge anyway - without exploding.

But if the alternator quits, then the battery has to feed the load - ammeter shows minus (-) as it's now providing all the power needed.

If the load exceeds the output of the alternator - like too many lights on - the meter shows (-).
If the battery is no longer of accepting a full charge, like going bad, shows (-).

If it's needing too much charge all the time - like sufated, shows + too much.


On a Jeepster it's usually pretty easy to hook up like it should be.
At the solenoid you'll find the big + cable from the battery - leave it there.
Take all OTHER wires off that big terminal - install another terminal block isolated from ground and attach ALL the other wires to it. Run the wires from both terminals, starter and your new one, to the ammeter through a 10 ga or bigger wire. Easy, simple.
If you have a separate wire attached to the battery + terminal at the battery, run that through the ammeter too.

Insulate ALL wires that feed throuh any metal - you can get split grommets at parts houses, or use a short piece of heater hose to insulate against sharp edges.

Now you have a diagnostic tool that will warn you BEFORE you have to walk.
Leave the idiot light hooked up too - it provides the initial field current to "kick start" the alternator - and gets your attention in case of failure.

08-15-2003, 07:04 PM
Old Hand

Join Date: Aug 2002

Location: Chester County(SE), Pa.

Posts: 1,179

Thanks: 0

Thanked 0 Times in 0 Posts
Re: amp meter hookup
---
Thanks Rich for typing what I was getting ready to say until I got to your reply. I agree 100% with RRich. Hook it up the way he describes and you will be monitoring the current into or out of the battery EXCEPT that used for starting.
That is what you want to know, is your battery getting charged or NOT.
Good wiring installation and proper use of grommets, tie wraps, etc. will go a long way to prevent electrical problems in Jeepsters. (Along with the "usual" fixes of the known weaknesses).
08-16-2003, 08:13 AM
Enthusiast

Join Date: Sep 1999

Location: NY upstate,

Posts: 339

Thanks: 0

Thanked 0 Times in 0 Posts
Re: amp meter hookup
---
Thanks folks for the info. Soon I will have been on every bolt and up every wire. Thanks again.
08-16-2003, 12:39 PM
Old Hand

Join Date: Jan 2001

Location: San Diego, California

Posts: 843

Thanks: 0

Thanked 0 Times in 0 Posts
Re: amp meter hookup
---
That's good info RRich. As always, your explanations make perfect sense. No wonder ammeter gave me so much trouble. [img]images/graemlins/blush.gif[/img]
08-16-2003, 04:11 PM
Re: amp meter hookup
---
Please excuse my butting in ... I'm a stranger here and don't want to act like a know-it-all. That said, I'm gonna plunge in anyway... [img]images/graemlins/grin.gif[/img]
I went away yesterday thinking that RRich's reply didn't do the job, and I was short on time to reply. The ammeter
is
in series with the load. The load is the charging circuit (alternator) in parallel with the lights, horn etc. I searched for an image that may help.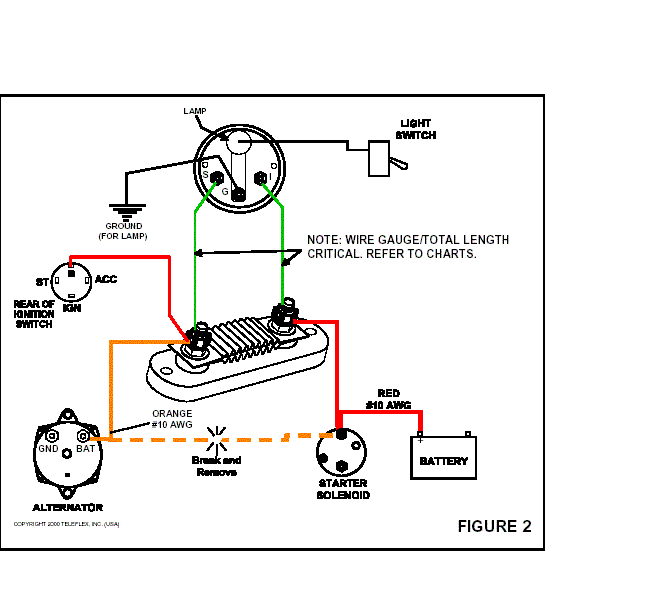 This ammeter uses an external shunt (instead of the shunt being inside the ammeter case) but the principle is the same. The ammeter measures the differential current between the battery and the load. Ok, so the starter and battery are on one side, and the alternator and the rest of the car are on the other.
I think that RRich wanted to point out that, under typical driving conditions, there is no differential current between the battery and the load because the alternator supplies all the current needed by the load. If the engine speed drops or stops, or if the battery is low, or the alternator fails, current flows through the ammeter. The +/- direction of the ammeter needle indicates whether the battery or the load is calling for more current.
Are ammeter's dangerous? RRich is right - under normal operating conditions, no. However, I did find a reference that said no vehicle equipped with more than an 85A alternator should run an ammeter. You can imagine that a car with a 105A alternator might draw too much current for the ammeter at idle, or if the alternator fails, or if the battery is kaput.
So, my own take on this is that voltmeter will tell you basically the same thing as an ammeter with more safety - but that's a different thread.
best regards [img]images/graemlins/cool.gif[/img] Tim
08-16-2003, 04:29 PM
Old Hand

Join Date: Aug 2002

Location: Chester County(SE), Pa.

Posts: 1,179

Thanks: 0

Thanked 0 Times in 0 Posts
Re: amp meter hookup
---
Tim,

I agree with your reasoning right up to the point about the 85 amp alternator. As RRich and your own post says, the output of the alternator does not go thru the ammeter. I guess if you have a current requirement that is too large for the alternator at idle, it is theroetically possible to overload the ammeter by drawing a huge amount of current from the battery, but not likely. The only thing I can think of with that high of a draw would be a winch and that will be directly off the battery (or a second battery) anyway, not thru the ammeter circuit.

Anyway, in the end I have removed the ammeter from my Jeepsters and put a voltmeter in to monitor the system. Easier to install and less chance of problems IMHO.

Brad.
08-16-2003, 05:06 PM
Re: amp meter hookup
---
Brad, I'm with you mostly. I've owned a few Jeeps but none of them have had winches, so my ignorance prolly will show. If you run the winch at the same time that the engine is running, when the battery voltage gets low enough, the battery(s) start to draw from the alternator. I'd expect this to be in proportion to the winch's current drain. If you run the winch engine-off from the second battery, you will need to charge a flat battery eventually. In both cases, the internal resistance of the battery may be high enough so that it never draws the full current of the alternator, but I don't know that.

I was more thinking that the high-amp alternator is chosen to either shorten battery charging time or to compensate for current-demanding accessories, whatever they may be. In that case, the in-dash, stock, 30-year-old ammeter may be overloaded. This could explain why SJs have so much trouble with stock ammeters, and suggests that C101/C104 (VJ?) owners might take a long, hard look at their stock ammeters.
best regards [img]images/graemlins/cool.gif[/img] Tim
| | |
| --- | --- |
| | |
Posting Rules

You may not post new threads

You may not post replies

You may not post attachments

You may not edit your posts

---

HTML code is Off

---
All times are GMT -5. The time now is
05:43 PM
.