| | |
| --- | --- |
| 350 Timing, It's Pi$$ing me off! | |
GM Standard SFA Trucks & SUV's
All discussion of full sized Solid Front Axle Trucks, SUV's to include Suburban
12-21-2002, 12:59 PM
350 Timing, It\'s Pi$$ing me off!
---

Putting the kids 82 Jimmy back together. Can't get timing set right. There are two lines on the dampner that TDC seems to fall right between, so I am assuming that it is 0. We set 0 and than put the dist back in with the rotor pointing at number one plug wire. I can get the engine to idle if we rotate the dist for about 30-35 degrees(?) but as soon as I try to put give it gas it stumbles big time. Any other setting she won't idle worth a darn. I tryed a different carb thinking it was fuel related but the other carb does the same thing. What am I missing??

350 engine / 350TH Auto
No smog crap, headers, dual exhaust, new plugs, wires, cap, rotor, coil, electronic module in dist.

Thanks,

Carl
12-21-2002, 01:20 PM
Addict

Join Date: Jul 2001

Location: Nova Scotia

Posts: 543

Thanks: 0

Thanked 0 Times in 0 Posts
Re: 350 Timing, It\'s Pi$$ing me off!
---
are you disconnecting the vacuum advance while setting intial timing?
12-21-2002, 01:42 PM
Re: 350 Timing, It\'s Pi$$ing me off!
---

Yes we are removing vac advance from dist. Timing seems to high to begin with. Why are there two lines on the dampner?

12-21-2002, 03:36 PM
Carpal \'Tunnel

Join Date: Nov 2001

Location: Waukesha, WI

Posts: 3,323

Thanks: 0

Thanked 1 Time in 1 Post
Re: 350 Timing, It\'s Pi$$ing me off!
---
The February 2003 issue of Chevy High Performance has an idiot's guide to installing distributors. I haven't read it yet but it looks worthy of my reading. I think I might photocopy it and keep it in my "before you do anything really stupid, read this Brian" folder.
You need to make sure it's actually at TDC. That means the compression stroke on the #1 cylinder. If you don't have it on the compression stroke then you'll have it pointed at the #6 cylinder's TDC.
Remember, 1 8 4 3 6 5 7 2 and #1 on the distributor is the one on the left of the frontmost two when looking at it from the front of your K5.
Oh yeah, I made this a while back when I was being mental and couldn't remember where #1 is on the distributor. I actually used the picture from Summit and modified it.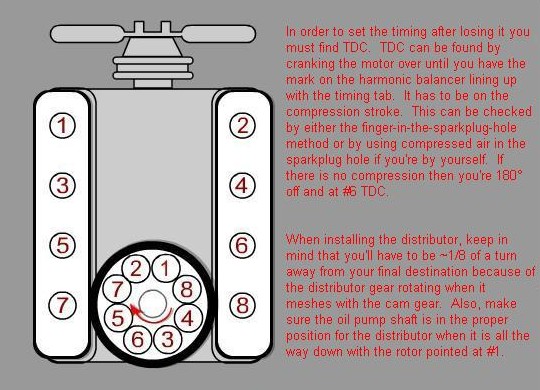 12-21-2002, 09:14 PM
Way Outta Control

Join Date: Sep 1999

Location: usa

Posts: 10,815

Thanks: 0

Thanked 1 Time in 1 Post
Re: 350 Timing, It\'s Pi$$ing me off!
---
I'd start by checking to make sure you really know where
true TDC is.

Pull the #1 spark plug, rotate the crank BY HAND until you
can feel the piston at the very top position - use a pencil
or something soft to probe in the hole to find it.
Then, and not before, look at the damper. It should say
0 degrees. If not, the damper's on wrong, key's missing,
or the outer ring has slipped. Repair as needed, or get
another one.

Now, set the distributor so it's pointing right at the #1
or the terminal directly opposite on the cap, depending on
whether compression stroke or backside.
If you aren't sure - it's easy, take a guess. If you guessed
wrong and it's 180 out, you'll know it by the backfiring
when you try to start it.
Then simply move each plug wire - swap each one with the
one directly opposite it on the cap. It really doesn't
matter which is #1 on the cap, as long as the rotor's pointing
to the right one at the right time.

It should start and run there. If you have to advance it
30 - 35 degrees to get it to run, but it runs badly there,
suspect the timing chain's in wrong or has slipped.
Yes, if the cam's off that far it can run, but not very well.

You said you are getting it back together, were you in there?

12-22-2002, 04:42 PM
Re: 350 Timing, It\'s Pi$$ing me off!
---

We never had the engine apart. Just had the carb and dist and all wires off if it. Gonna go play with it some more and see what happens.

Thanks
Carl


12-23-2002, 06:59 AM
Way Outta Control

Join Date: Sep 1999

Location: usa

Posts: 10,815

Thanks: 0

Thanked 1 Time in 1 Post
Re: 350 Timing, It\'s Pi$$ing me off!
---
Since you didn't have it apart it could have jumped time on
the chain.
I wouldn't keep trying to start it anymore until you do the
following, as you may damage more than has already been done.

Usually, but not always the following check works.

Rotate the crank by hand at least 1/2 turn until the mark
is at 0 or close to it. Make sure you don't let it rock
back - keep it moving in the same direction.

Note where the line is.

Remove distributor cap.

Watch the distributor rotor, slowly and carefully turn the
crank in the opposite direction from you already turned it -
until the rotor just barely starts to move.
STOP!

Measure how far it went before the rotor moved. You can
approximate how far in degrees by using the timing marks
as your guide.

What you did was get all the chain's slop on one side, then
when you turned the crank backwards it all had to transfer
to the other side before the cam/distributor can move.
You measured the amount of "looseness."

Generally a new regular chain will have about 4-6 degrees
of slop.
A true double roller's about 2 or less.
A worn chain that should be replaced will be about 12 or
more degrees of slop.
At somewhere around 15 degrees of total slop they can, but
not always, jump.
I've seen them as high as 19-20 and still run fine, but not for
long. That's so loose you can take the chain off without
removing the bolts.

Yes it can run, barely, if it's jumped just one tooth.
Jumping 2 or more can destroy things, like valves, pistons
etc.

Check it twice to make sure your results are accurate.


Then, if it passes that test:
If it has an EGR, take a close look at it.
It could be stuck open from carbon.

When an EGR valve's open at idle or slow speeds it's diluting
the mixture way too much with inert, unburnable exhaust
gasses.

But - you can get it to run if you advance the timing way
ahead, like 30-45 degrees.
By lighting it that far ahead you are creating enough cylinder
pressure to run, but not well. It usually won't feel like a
misfire, just gutless.

Check the EGR Valve, exhaust crossover under the carb - if
it has one, and the crossover in the manifold - anyplace the
exhaust gasses could be getting back in the induction system.

Let us know on this thread what you find.

12-24-2002, 04:37 PM
Re: 350 Timing, It\'s Pi$$ing me off!
---
Remember that the crank makes two rotations for each firing. If the mark on the crank is by the pointer on the engine it means the pistons should be near TDC but it doesn't mean it is on the firing TDC. If it is on the TDC between exhaust and intake the engine should run but like crap. Make sure the intake valve has closed just before the piston hits TDC.
If you have changed the timing cover you could have another problem. I had to replace the stock cover ( the chain had eaten it away ) and had to add an aftermarket timing pointer. It didn't go back where the stock one was, it was about 35 degrees off. This made timing fun.
Posting Rules

You may not post new threads

You may not post replies

You may not post attachments

You may not edit your posts

---

HTML code is Off

---
All times are GMT -5. The time now is
01:43 AM
.